Tanzania is well known for its amazing natural attractions, including amazing safaris, mountains, lakes and wildlife-related adventures. There are an array of activities for visitors, like scuba diving, snorkelling, swimming and many more.
To help you plan your trip to Tanzania and make it very fulfilling, we have compiled a list of top attractions recommended by our travel expert team. Our list includes Mount Kilimanjaro and some of Africa's most popular national parks in Tanzania.
We also included recommended activities you can engage in while you are there and what we love and do not love about these destinations.
1. Mount Kilimanjaro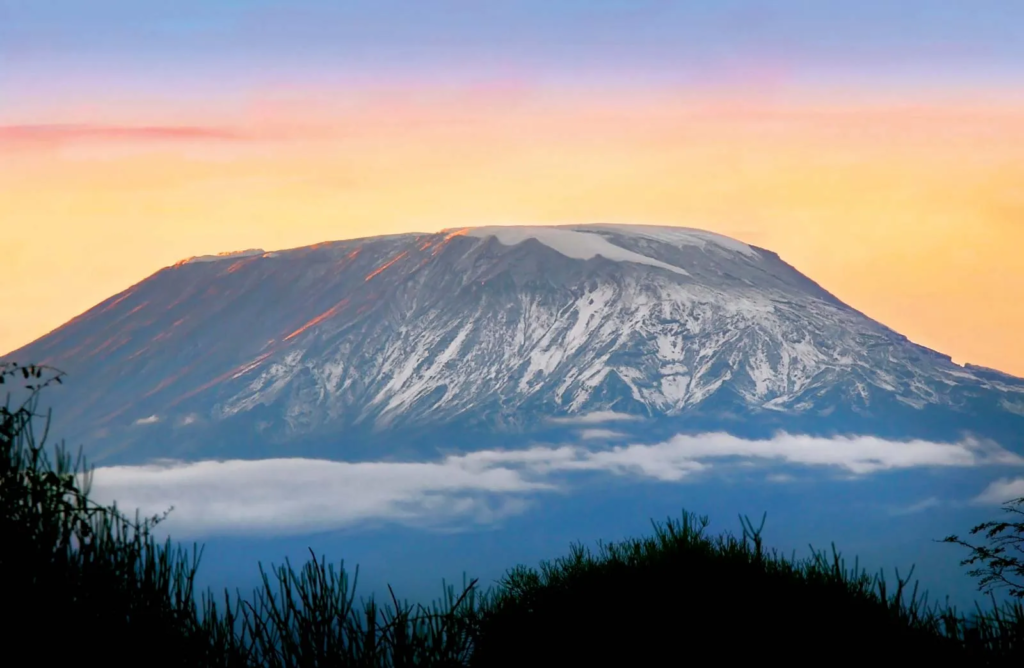 Tanzania's most admired destination is Mount Kilimanjaro (5,895 m), which is Africa's tallest mountain. Unlike other parks in northern Tanzania, people visit Mount Kilimanjaro National Park more to admire the stunning snow-capped mountain and many who love climbing climb it for adventure.
Although Mount Kilimanjaro may be climbed year-round, the perfect time to do it is from late June to October, when the weather is dry. The warmest and driest months of the year, which are December to mid-March and mid-June to the end of October, are the best times to climb Kilimanjaro. Unfortunately, even though these are the months with the best weather for mountain climbing, they are also the busiest.
Kilimanjaro National Park is located all around the peak. This also comprises smaller mountains, highlands, plateaus, and forests. There are seven authorized routes to the summit of Mount Kilimanjaro, and each one varies in complexity and traffic. Remember that many guests only climb the mountain partially.
Recommended activities you can engage in Trekking, hiking, climbing and camping
Why we recommended this place
It is the base of some of the most arduous hiking and trekking trails.
It has beautiful forests, plateaus and lowlands for relaxation.
Why we do not recommend this place
There is no cable car on Mt. Kilimanjaro, so visitors have to climb
It is not suitable for a family vacation
2. Mnemba Island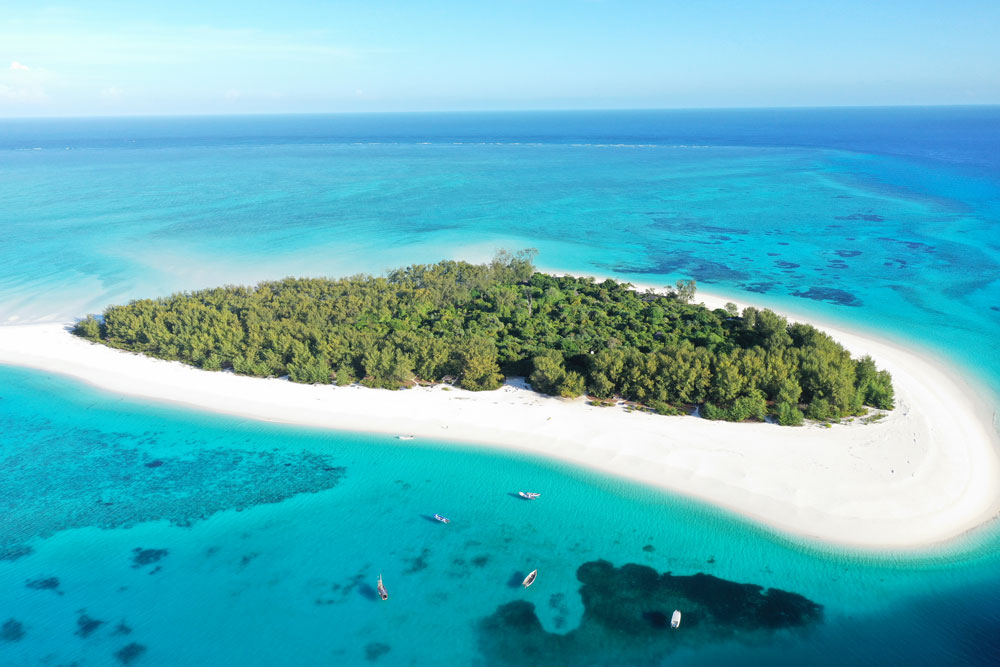 Mnemba Island is part of the Zanzibar Archipelago and is only 90 minutes away from Stone Town by car. Off Zanzibar's eastern coast is Mnemba Island, a little heart-shaped island that is both charming. With frequent views of turtles, dolphins, and an enormous variety of fish in the nearby waters, which are home to various marine life,
This exclusive island is truly one of the best. It is among the top locations in Tanzania to travel to for a luxurious escape amidst vast spice fields and clear ocean seas. Visit this location for the ideal private island experience, where you may live in opulent accommodations, enjoy tropical weather, get soothing massages, and engage in various water activities.
At Mnemba Island Lodge, you may partake in various activities, including snorkelling, private dhow trips, beach lunches, kayaking, fishing, swimming with dolphins, and windsurfing excursions. The best months to travel are July through March, with the most expensive months being October through March (Kaskazi monsoon)
Recommended activities to engage in Swimming, snorkelling, scuba diving, bird watching, and fishing
Why we recommend this place
It is quiet and peaceful
It suitable for
a good vacation for couples
Why we do not recommend this place
It is not suitable for adventure, only for relaxation.
3. Serengeti National Park.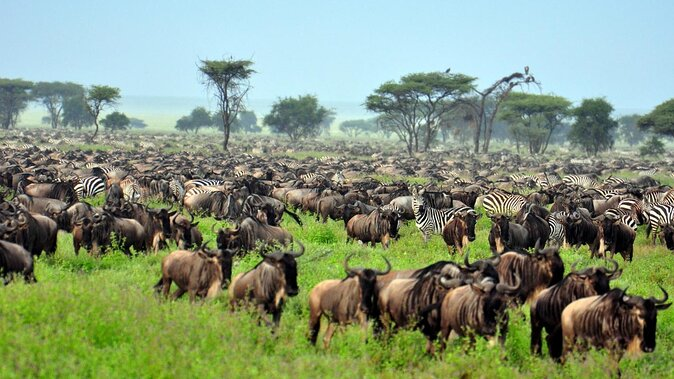 Northern Tanzania is home to the Serengeti National Park, which covers 14,763 km2. It is one of the most well-known parks on the continent and is known for its animals and traditional African landscapes. It is a Unesco World Heritage Site and the oldest park in Tanzania. It hosts the magnificent wildebeest migration and provides year-round top-notch animal watching.
Tens of thousands of tourists visit Tanzania's second-largest national park, the Serengeti, every year. June through September are the best months to see wildlife in Serengeti National Park. The coldest time of year is from June to October, and the wet season lasts from March to May.
In May or early June, more than 1.5 million wildebeest and tens of thousands of zebra and gazelle embark on their yearly migration. One of nature's most stunning sights, this migration is the main attraction for many visitors.
The park is one of the best places in the world to watch lions up close because it is home to more than 2,500 of them.
Recommended activities to engage in Safari, camping, and wildlife
Entry Fee: INR 3,800 (for adults) and INR 1,300 (for children)
Why we recommend this park
It has nearly 500 species of birds
It has a wide variety of animals
There are many lodges near the park that you can easily pass the night
Why we do not recommend this park
The place is usually crowded
4. Ngorongoro Conservation Area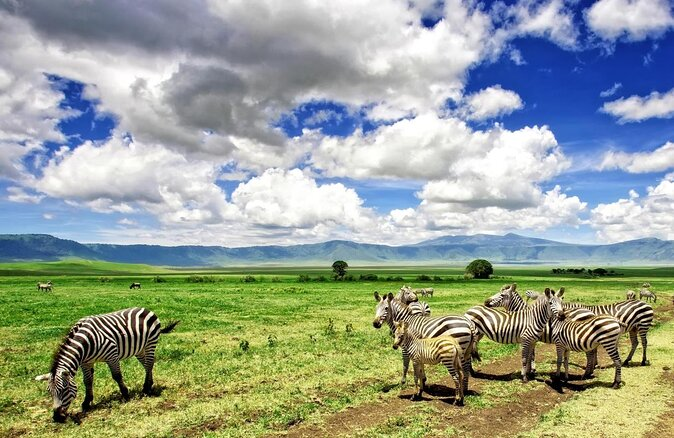 In the East African safari circuit, the Ngorongoro Conservation Area is legendary. The famous volcanic Ngorongoro Crater is found in the Ngorongoro Conservation Area, one of Tanzania's most well-liked places to see wildlife. It is situated halfway between the Serengeti and Lake Manyara. Many people are attracted to this massive volcanic crater because it always has water available, preventing them from leaving.
A massive crater of an ancient volcano, the largest of its kind on the globe, delineates this vast dustbowl of savannah, fig tree forests, undulating hills of mud-caked plains, and spectacular cliffs.
The wildlife here has flourished and lived unlike elsewhere on the continent because it is hidden behind the serrated peaks forming the vast crater.
Rare crater lions, black rhinoceroses, blue wildebeest, and Tanzanian cheetahs are among the animals that roam the wilderness area between the peaks.
Recommended activities to engage in Safari, climbing, hiking, camping, bird watching
Entry Fee: INR 3,800 (for adults) and INR 1,300 (for children)
Why we recommend this place
It is suitable for large animals and bird viewing.
Why we do not recommend this place
It is not a cheap place to visit
5. Zanzibar Beaches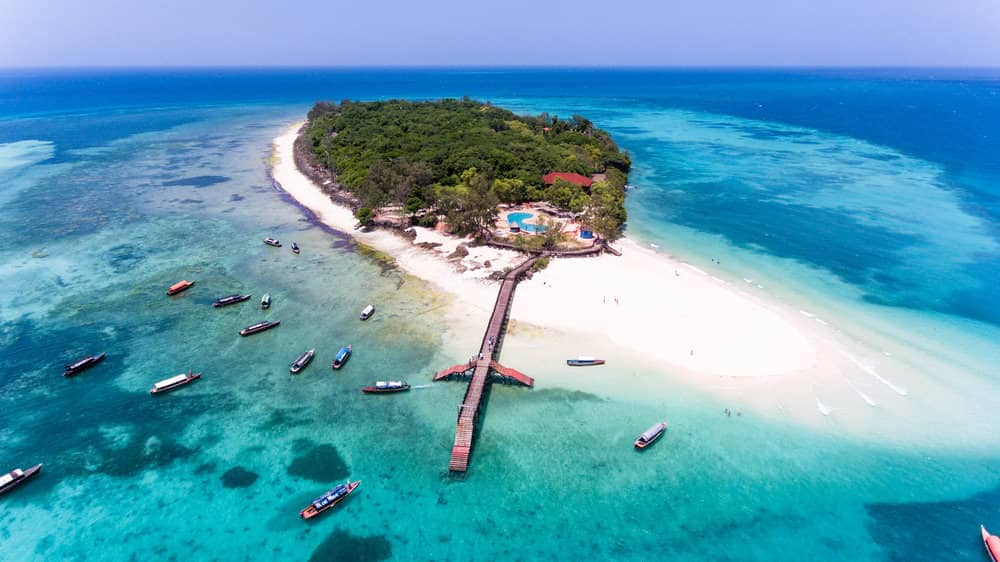 Tanzania is renowned for its beautiful islands that form an archipelago off the country's coast and line the Indian Ocean with white sand beaches that are largely untouched. The exotic spice island of Zanzibar has clear turquoise waters and colourful history making it the ideal location for a barefoot African beach vacation or honeymoon. It is a stunning beauty and the ultimate escape from the stress of modern life.
The Tanzanian island of Zanzibar, also known as Unguja, is a popular vacation spot renowned for its stunning beaches. This island is a part of the Zanzibar archipelago, including Pemba and Zanzibar. Pemba has some of the best beaches in the world. Depending on whatever side of the island you are on, the surf is different, but tourists will discover soft white sand and clear shallow water, along with traditional boats lining the shore.
Beautiful beaches, pleasant weather, and warm tropical waters may all be found in Zanzibar. The beautiful, warm water, coral reefs, and diverse marine life that characterize this archipelago make it an ideal snorkelling and diving destination. Zanzibar is tough to beat if you want relaxed days on white-sand beaches. Zanzibar is the perfect beach resort and a haven for culture vultures, adventurers, and environment enthusiasts.
Recommended activities to engage in Animal viewing, adventure, snorkelling, scuba diving, kitesurfing and jet skiing,
Why we recommend this place
Its unique culture, history and architecture
It's a romantic getaway
It is suitable for relaxation
Why we do not recommend this place
6. Ruaha National Park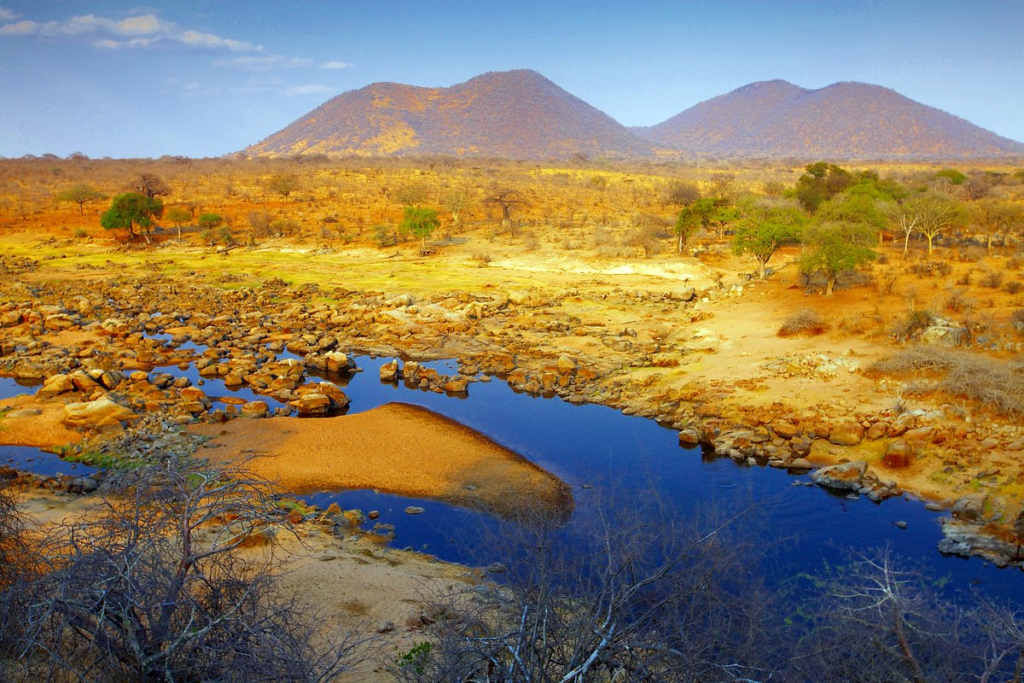 Ruaha, Tanzania's largest national park, is home to many elephants and giraffes. Giraffe Park is a common nickname for Ruaha National Park. A vacation in Ruaha National Park can be a fantastic option if you're mainly interested in seeing these exquisite animals but would be OK seeing the uncommon lion as well.
The Ruaha National Park, which has grown steadily over the years to cover an area nearly the same size as Wales, is now the only game reserve in East Africa.
Ruaha National Park is a typical dry-season park, with mid-May to December being the optimum period to encounter larger species and predators. Near the end of the dry season, when water is limited, the wildlife congregates near water sources, providing unparalleled possibilities for game viewing.
It now covers an area of more than 20,000 square kilometres, including baobab forests, gallery woods, and plains covered in acacia trees.
While Ruaha National Park is the least visited park in Tanzania, the environment there is still largely unspoiled. Around 400 species of birds not present in northern Tanzania can be enjoyed by birdwatchers, while photographers are drawn in particular by the river, breathtaking gorges, and towering trees.
Ruaha National Park is popular with tourists because it only has a few visitors. This allows you to experience Tanzania more genuinely.
Recommended activities to engage in Game drive, relaxation, guided nature walks, culture tours and bird watching.
Why we recommend this place
It is only sometimes crowded.
It is the largest wildlife conservation area in East Africa
It has unique wildlife species
Why we do not recommend this place
They don't accept visitors anyhow; you have to wait.
7. Arusha City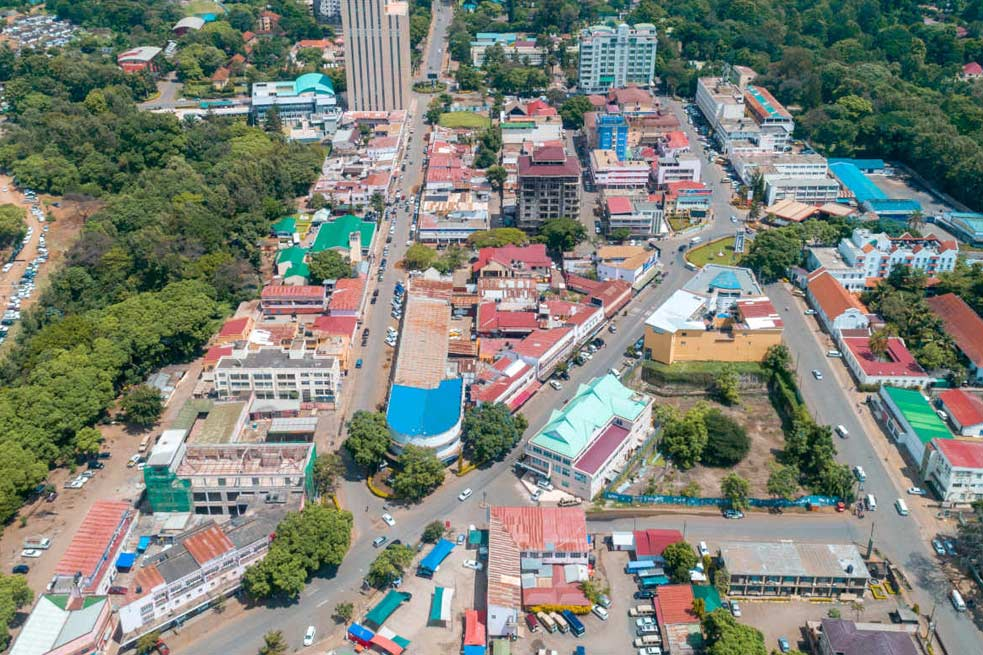 The vast city of Arusha, located at the foot of Mount Meru, is among the top tourist destinations in Tanzania. Arusha is a significant travel destination because of its strategic location, which makes it the starting point for trips to exciting adventure locations like Mount Kilimanjaro and Serengeti National Park. It is also one of the greatest places to stay in Tanzania because of the calming temperate environment and lively markets.
While many of Tanzania's national parks are only good for safaris, Arusha is a great place to go hiking. You can go hiking, rock climbing, or even embark on a canoe journey to view the countryside from a different angle if you wish to mix wildlife viewing with the workout. It also contains a park, which is diversified and filled with aspects of nature despite being modest by national park standards. The park has three distinct parts. The Jekukumia River receives runoff from the Meru Crater, which is situated in the park's western section. The crater's rim is where the summit is located.
Arusha city is a year-round travelling destination where you find nice accommodations and plenty of things to do for one or two days before you head out on a safari. Other travellers in Arusha are usually starting or finishing an East African wildlife safari. However, there is some volatility in the number of travellers because of other travel objectives, like business meetings and conferences.
Tanzania's second-highest mountain, Mount Meru, is frequently used by tourists as a warm-up climb before ascending the formidable Kilimanjaro. While some are content to observe it from a distance. If you belong to the latter group, you'll be happy to learn that this inactive volcano beautifully frames Arusha. If you don't want to work out, you may alternatively travel to its lower slopes to go on a far less taxing camel safari or dip in Arusha National Park's waterfalls.
Recommended activities to engage in: Visit Shanga, Arusha National Park, Clock Tower, National History Museum, Kilombero Market, and relish East African delicacies at the best cafes in town.
Why we recommend the place
It has an exciting food scene.
There are many places for quiet reflection
No entry fee
You can view mount meru from it
You don't require any guide
Why we don't recommend the place
It is not known for any specific thing.
8. Pemba Island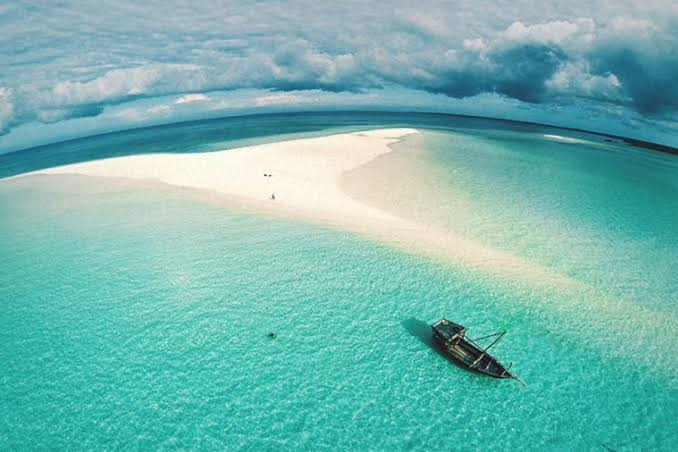 Are you tired of history trips and wildlife safaris? Enjoy the day on Pemba Island amidst the clear blue waters and luscious vegetation. It is one of the best locations in Tanzania to visit if you want to take advantage of the warm weather, see the diverse coral reefs, and engage in thrilling water activities. Off the coast of East Africa, Pemba Island is a component of Tanzania's Zanzibar Archipelago.
Pemba Island is an isolated, natural island of extraordinary beauty and fertility cut off from the Tanzanian mainland and Zanzibar for decades. The ruins of mosques and tombs are dispersed throughout various forests, swamps, mangroves, secret beaches, and lagoons, most of which have been reclaimed by the forest.
Going to Pemba Island is like taking a trip back in time. A paradise island still largely underdeveloped, it is a rare gem that is difficult to find. It has remained unspoiled and unconnected to the rest of Tanzania's mainland and Zanzibar for many years. Over 300,000 people live there, and there are only a few dozen visitors from abroad at any time.
The best times to travel to Pemba Island are during its cool-dry season, which lasts from July to October and typically experiences temperate weather, as well as during its humid-hot dry season, which lasts from January to February typically coincides with the coldest months in northern America and Europe.
Recommended activities to engage in Water skiing, diving, snorkelling, and boating
Why we recommend the place
It is a great place to visit to escape the crowds.
It is usually not crowded.
Pemba remains largely beneath the radar, and you'll still have most things to yourself,
It is peaceful and quiet.
Why do we not recommend the place?
It is not suitable for adventure.
9. Katavi National Park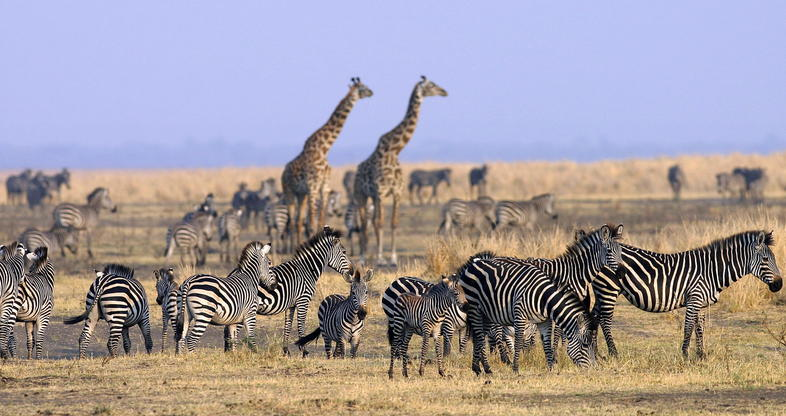 Katavi National Park is one of the nation's most beautiful and unexplored wilderness. It boasts breathtaking landscapes and an abundant wildlife population. Katavi National Park, located in Tanzania's western region, is a relatively unspoiled natural paradise and home to the most significant herds of buffalo on earth.
The secluded Katavi National Park is home to undeveloped nature. The massive flood plain, divided by the Katuma River and various seasonal lakes, is a defining characteristic of Katavi. The lakes are home to large herds of crocodiles, hippos, and more than 400 different species of birds.
It is one of the best parks in Africa, and many safari operations would love to start camps here. Yet, due to the logistical challenges and high expenditures, just a few tiny, permanent safari camps share this 4,500 km2 of wildness.
Visit Katavi during the dry season (May to October). You won't have to contend with muddy paths, scorching temperatures, or vicious mosquitoes as you might during the rainy months. Most importantly, the drier months are when animals congregate on the floodplains for a drink, and the thin vegetation won't shield them from your view.
Recommended activities to engage in Game Viewing, hiking, bird watching and relaxation
Why we recommend the place
Good general wildlife viewing in the Dry season
Hippo pods converge in spectacular numbers in the Dry season
Unusual antelope species, like sable and roan
Why do we not recommend the place?
It is expensive because getting accommodation is difficult.
10. Lake Manyara National Park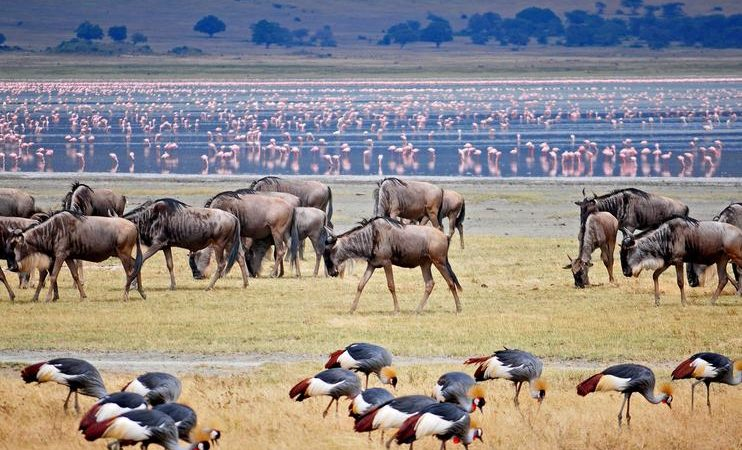 Lake Manyara National Park, which lies in northern Tanzania, is 126 kilometres west of Arusha Town.
The wilderness experience of Lake Manyara National Park is available in a variety of environments, including soda lake in the Rift Valley, densely forested areas, and steep mountainsides. The park is renowned for its peculiar tree-climbing lions and the large elephant herds it was created to protect.
The environment of Lake Manyara National Park is made up of wetlands, grasslands, and forests. Two-thirds of the park is submerged in water, and Lake Manyara is home to various birds, including thousands of flamingos, during specific times of the year. Its main attractions are the abundance of elephants, lions that can scale trees, and hippos that may be seen in Lake Manyara Park at a much closer range than in other parks. The world's highest population of baboons resides in this park.
Even though Lake Manyara National Park is a year-round wildlife park, the dry season lasts from July to November and is considered the best time to see animals.
Recommended activities to engage in Wildlife drives, canoeing (when water levels are high enough), mountain bike tours and bird watching
Why we recommend this place
It is cheap to enjoy yourself here
It has a variety of animals
It has amazing wildlife
Why do we not recommend the place?
It is small for a larger crowd.
Conclusion
The list above is the best travel destinations in Tanzania. To help you properly plan your trip, we recommend checking out our blog on the best time to visit Tanzania. This will enable you to plan your trip based on the activities you want to engage in while on your trip.