Having access to loans is important for people who want to grow their businesses, plan for their future, or handle financial challenges.
Mobile loan apps have become a helpful solution in Africa, where it can be hard to get loans from traditional sources. These apps make it easier for people to get the loans they need.
With so many online loan applications, finding the right proposition can take time and effort. To simplify this process, we will discuss the best loan apps available in the different parts of Africa, West Africa, South Africa, East Africa, North Africa and explore their features, benefits, and drawbacks.
Best Loan Apps in West Africa
Branch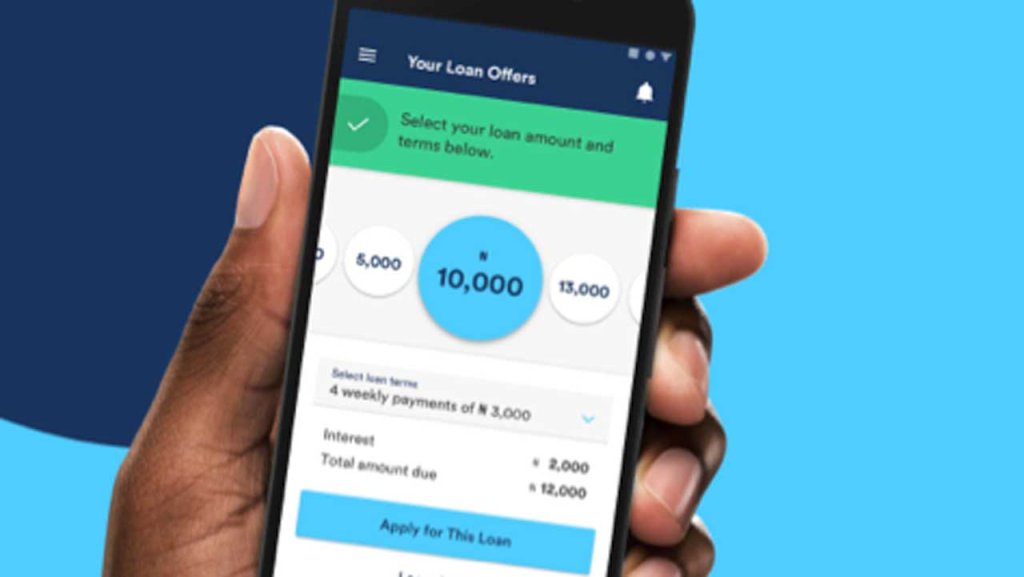 Branch Loan is a significant loan platform in Nigeria where you may acquire a fast online loan. It employs data science to provide financial services to millions of Nigerians.
The platform offers quick loans to help people meet their business and personal goals. Nigeria, Kenya, Mexico, India, and Tanzania are among the countries in which the company operates.
Using machine learning, Branch has developed an automated technique for determining creditworthiness via clients' smartphones, making it one of the best loan apps in Africa.
Over the last few years, the app has grown dramatically, with over 1.2 million users and over one million loans disbursed, totalling over N9 billion in Nigeria alone. This amazing growth rate attests to the demand for its services.
Pros
It provides fair access to all.
It enables seamless transactions.
It allows you to make payments with ease.
It offers customers a way to save and invest their money.
Cons
The interest rate on the loans is a little bit high
Their network is sometimes slow
The weekly cash back reduced
Fairmoney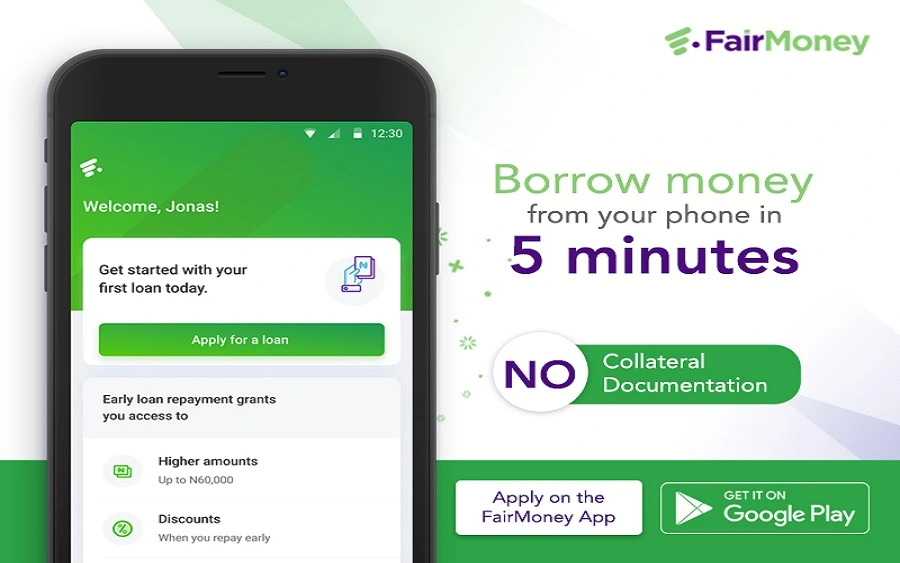 Fairmoney is a digital bank that allows you to apply for a loan and have it transferred to your bank account in minutes.
The Fairmoney app analyzes your bank records and validates your BVN using artificial intelligence to make lending decisions based on your credit score. The loan application is entirely online, with no collateral required, and it is available at anytime
The design of the Fairmoney app is user-friendly with a simple dashboard making it easy to navigate. Loan applications and repayments can be completed in a few simple steps.
The processing fee ranges from 3% – 15% (GST applies) Fairmoney also charges a minimal penalty fee if there is a default in payment. This default fee is calculated as a % of the outstanding amount after the due date. This fee will only be charged if you don't repay your loan on time, ranging from 0.2% to 0.8% per day.
The interest rate of fair money varies according to your profile; it ranges from 1% to 3% per month. Taking multiple loans with FairMoney and repaying as when due will help get better rates with a fair money.
How to Apply for a FairMoney loan
You must do the following to use the FairMoney loan app to apply for a loan.
Go to the Google Play store and download the FairMoney app.
Join with a phone number that is linked with your BVN.
You must provide some information and verify your identification before getting a loan offer.
Once you agree, your loan will be disbursed immediately into the bank account of your choice.
Pros
Loan package information that is clear and concise
Disbursement times are short (within 5 minutes)
Cons
It is not suitable for big loans.
The fairmoney app is not yet available for iPhone users.
Download the fair money loan app from the Google play store.
Carbon
Carbon is a leading African digital bank that provides financial services in West and East Africa countries. The app is available to Kenyans, Ghanians, and Nigerians.
With Carbon, expanding your small business or taking care of personal emergencies is simple and affordable. Carbon offers loans to Small and Medium-sized enterprises and Individuals. Their loaning procedure is made to meet your needs and promote your development. When you pay back promptly, you can gain access to larger loan amounts and lower interest rates.
If you are applying for a larger loan, you may also be required to provide your bank verification number (BVN), bank account details, and a government-issued identification card.
Carbon also features an investment plan you may rely on to invest money and get repaid with significant interest. You will enjoy this program because it is jam-packed with practical and promising features.
To apply for a loan from Carbon, follow the steps below:
Register and provide details such as your name, phone number, and email.
You also need to take a picture in real-time using the Carbon app.
Click on the "Request a Loan" button and fill in the necessary details.
After loan approval, you will need to accept the offer and provide your card details.
Pros
It has numerous features and alternatives for saving, making payments, obtaining loans, and investing in the future.
Quick registration (signup) procedure
The smartphone app has an easy-to-use UI.
Encourages local money transfers
Cons
The loan interests are quite high.
Quickteller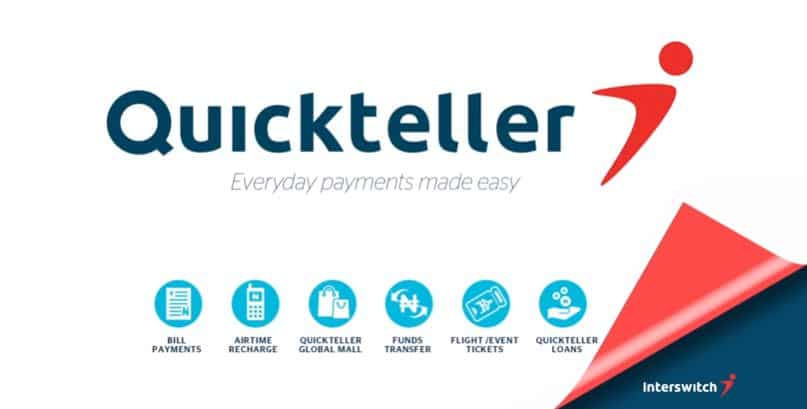 The Quickteller app is a digital hub from the Interswitch group that provides an easy-to-use, multi-channel payments platform designed to make payments an easy and enjoyable experience.
They offer stress-free loan services to individuals. Quickteller uses your credit history and offers convenient and efficient loan options powered by Nigeria's top lenders.
Your prompt repayment level determines your credit rating. Your credit rating determines the amount you can borrow from quickteller.
Quickteller offers between 3% to 15% interest rates over a repayment duration of 10 days to 3 months. The loan's interest rate is determined by these lenders' evaluation of the applicant's financial record. Nevertheless, in most cases, your financial record will be tested to determine your interest rate.
Pros
It has a fast and reliable application process.
You do not need a guarantor or collateral to obtain a loan.
You can use their additional services, such as Airtime recharge, Western Union transfer, and bill payments.
Cons
Additional fees are to be paid as a penalty if you cannot repay on the due date.
Their repayment tenor is relatively short.
Fido Money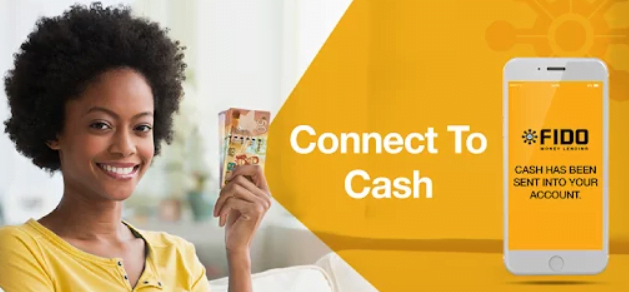 Fido is a digital platform that provides quick and easy loans to individuals who need financial assistance. With Fido, you can forget about long loan processes and paperwork, as they offer a completely digital application process.
The application process does not require collateral or a guarantor, which makes it simple to secure a loan of 100 to 3,000 GHS. With a fully digital application process, you can apply 24/7 and receive the funds in your account within 15 minutes.
Repaying your loans on time and completing the Fido credit score assessment can help you unlock larger loan amounts and improved terms. To apply for a quick loan, simply follow the application steps and receive immediate approval.
How to use the Fido Mobile App for borrowing
Install the Fido Mobile App first by going to the Play store.
Register with your accurate information.
Give accurate information when filling out the loan form in the mobile app.
Once they approve, you will receive the loan proceeds in your account.
Pros
Quick and easy application
Multiple Loans offers
Cons
Download Fido app on Google play store
QuickCheck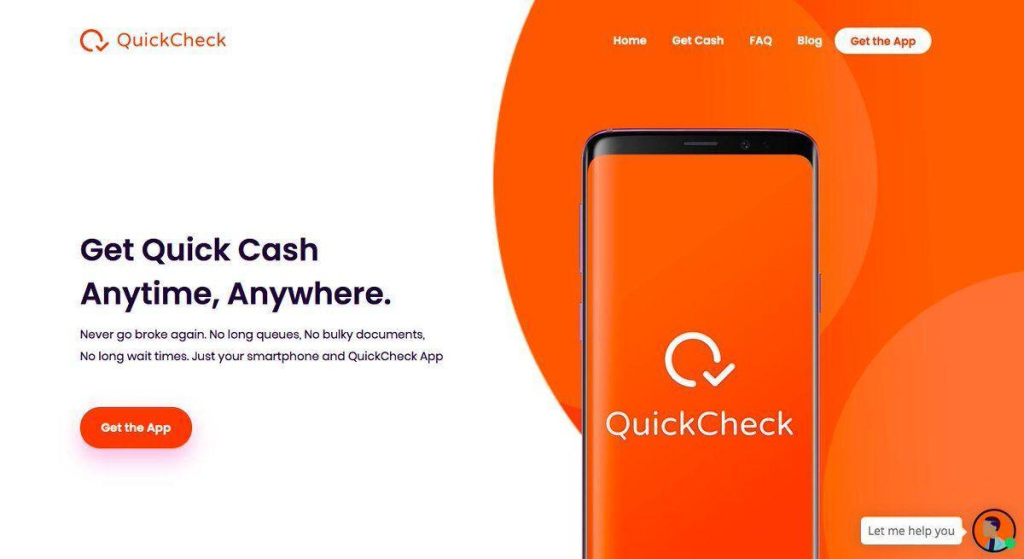 In Nigeria, QuickCheck is a recognized loan site. Essentially, this portal provides Nigerians with collateral-free loans. The app has over 100,000 users and numerous excellent ratings on Google Play.
QuickCheck platform provides digital lending services that would allow Nigerians to secure loans in a matter of minutes.
The QuickCheck platform offers you collateral-free borrowing services. As a result, as long as you are eligible, you can apply for a loan without requiring collateral or paperwork. It is available only in Nigeria.
Pros
There is no need for collateral when applying for a loan
No sharing of personal information with third parties
It has a good customer service approach
Guarantors are not needed also
Cons
They have a poor system of operating
Access to loans is limited
Best Loan Apps in North Africa
Kashat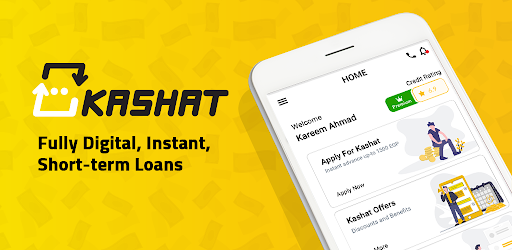 Kashat is Egypt's first nano financial service provider, with a mission to provide financial inclusion for the un- and underbanked population. The platform offers instant, small, short-term, productive loans to help individuals access digital financial possibilities. Kashat has recently expanded its reach by launching in nine new governorates, making its services available to 100.4 million people.
In an effort to accommodate more of Egypt's unbanked population, Kashat has raised its loan limit to EGP 2,000. This means more individuals can access the financial help they need without going through a lengthy loan process. Kashat users can now easily withdraw and repay their loans through all telecom and bank e-wallets available in Egypt, making the loan process even more convenient.
Kashat is at the forefront of digital financial services in Egypt, providing a simple and accessible solution for the un- and underbanked population. By powering access to digital financial possibilities, Kashat is helping to bridge the financial gap and improve the financial lives of individuals in Egypt.
How to apply for the loan
Through Kashat, users can apply for instant credit using their smartphones. Here is a step-by-step process for applying for a loan on the KASHAT app.
Download the app on the play store or app gallery
Set up an account through the app
Take a picture of your national IDs
Answer a few questions, and wait for a message to inform you of the credit decision within minutes.
Pros
Get access to loan services without collateral and paperwork
The app is easy and convenient to do
Convenient interest rate
Lower admin fees when you pay loans timely.
Cons
It is limited to those in Egypt alone
Limited loan offers
Download Kashat on Google Playstore
Download Kashat on APP Gallery
CIB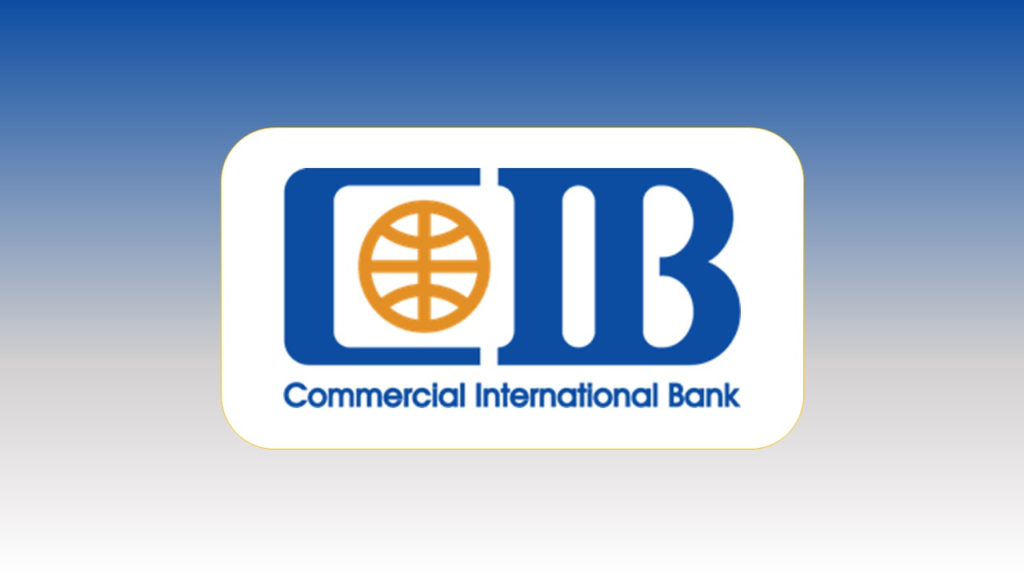 CIB is Egypt's leading private-sector bank, offering a wide range of financial products and services to meet the diverse needs of its customers. Whether you're an enterprise, institution, household, or individual, CIB has something to offer.
One of the bank's core offerings is its loans, designed to help you finance your personal and professional goals. With CIB's loans, you can have peace of mind knowing that you have access to the financial support you need to achieve your dreams.
The bank also offers life insurance during the loan repayment period, so you can rest assured that you and your loved ones are protected.
Repaying your loan with CIB is easy, as you can make repayments anytime, anywhere. You also enjoy a flexible loan repayment period of 12 to 96 months. With over 180 branches and over 1,000 cash deposit machines, there are plenty of convenient options for making repayments.
To help you make informed decisions about your loan, CIB has a loan calculator that you can use to calculate your loan, repayment date, and interest rate.
How to apply for the CIBEG loan app
Download and Install the mobile app from App store or Playstore.
Complete the registration process on the app.
Select the loan you want to apply for
Fill in the required information and submit your application.
Finally, monitor for your loan application to be verified and approved.
Once the platform has approved your loan request, electronically sign the loan agreement to get the money immediately.
Pros
Repayments are more straightforward; anytime, anywhere.
They offer education, solar, travel, and personal and car finance loans.
Cons
Strict eligibility criteria. One of the significant disadvantages of a bank loan is that banks can be cautious about lending to small businesses.
Lengthy application process.
Not suitable for ongoing expenses.
Secured loans carry risk.
Easemoni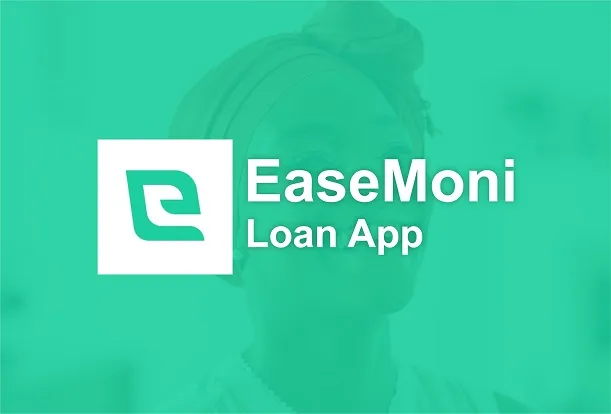 Easemoni is a personal loan app that operates in Egypt, Nigeria, Pakistan, Indonesia, Mexico, and Colombia, and they plan on expanding their operation to other countries. With the help of Easemoni, a loan service provider, you may apply for quick loans at any time and from any location.
Essentially, this loan app gives you a loan without needing any collateral or even having to visit their office in person. Download their mobile application to your phone to start the loan application process. You'll get the loan you requested in ten minutes.
One of the benefits of the Easemoni app is that you do not need any collateral to apply for a loan. Additionally, regardless of whether you are a new or returning customer, this platform allows you to request a loan of N1,000,000 (one million naira). However, if you use the app frequently and make your loan repayments on time, your credit score will rise.
How can I apply for a loan on Easemoni and get approved?
The steps below will guide you on how you apply for a loan on this platform:
1. Install the mobile app after downloading it, then finish the registration process.
2. After selecting the loan you want to apply for, fill in the required information and submit your application.
3. Wait for your loan application to be verified and approved. Once the platform has approved your loan request, electronically sign the loan agreement to get the money immediately.
Your loan application will be accepted if you follow the instructions above and have everything you need. Additionally, you must confirm that the phone number you provided when applying matches the one you use to get alerts. This makes it possible for the platform to establish your creditworthiness swiftly.
Pros
Easemoni offers loans up to 1,000,000 NGN.
No collateral is required.
Every step of the loan application is digital.
Cons
Approval time takes time to get approval for the loan.
It asks for too much personal information.
Download Easemoni on Google Playstore
Best Loan Apps in East Africa
Senti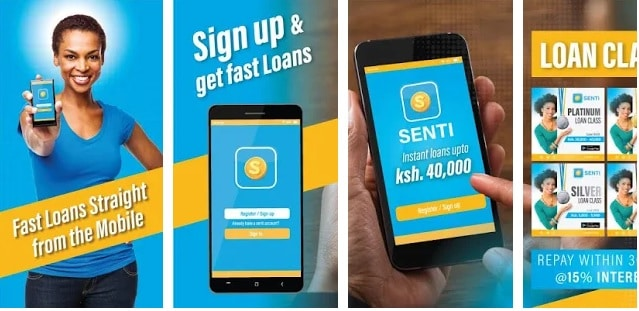 Senti is a mobile app-based micro-credit provider in Kenya that offers customers easy, fast, and hassle-free loans. The app provides access to four loan categories – Bronze, Silver, Gold, and Platinum, with loan amounts ranging from Kshs. 5000 to Kshs. 40000.
The loan application process is easy and can be completed in minutes. Senti uses an online verification process that enables quick loan decisions and cash delivery in just minutes.
Customers can access the live help feature during business hours or call Senti's support line anytime during business hours. The sign-up process is simple and requires no paperwork, queues, or hidden charges.
Senti's loans come with flexible repayment options, and early repayment can boost a customer's credit limit. In addition, customers can pay bills such as KPLC and buy airtime directly through the app. Referring a friend to Senti can lower the interest rate on the loan offers.
Senti operates on a transparent and fair cost model with no hidden fees. The loan application process involves the following:
Registering on the app with accurate details.
Filling out personal information.
Waiting a few seconds for data verification.
Once approved, customers can access their loan funds instantly. Senti is a convenient financial partner that helps its customers tackle their financial needs anytime, anywhere.
Pros
Simple registration process
You can quickly pay with your phone.
No unplanned fees, only fees that must be applied to the loan.
A helpful financial partner when you need one.
Your credit limit is increased by early repayment.
Cons
You cannot borrow above your credit limit.
The app is incompatible with all devices like IOS.
There is no USSD code to access loans for now.
IPESA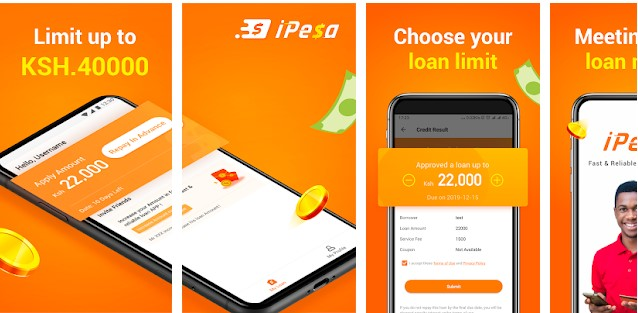 IPESA is a reliable loan app that offers a simple and hassle-free loan solution to Kenyan individuals. With a loan amount ranging from 500 Ksh to 50,000 Ksh, IPESA caters to a variety of financial needs.
The loan term can range from the shortest of 91 days to a maximum of 180 days, with an Annual Percentage Rate (APR) ranging from a minimum of 36% to a maximum of 72%. IPESA offers a service fee of 0% and requires the loan applicant to be at least 18 years old or above.
To calculate the total amount payable, the loan amount is multiplied by the APR and divided by 2. For example, if the loan amount is 2500 Ksh, the loan term is 180 days, and the APR is 72%, the total service fee will be 2500 Ksh * 72% (APR) / 2 = 900 Ksh.
The process of applying for a loan with IPESA is straightforward. Register with your M-Pesa number, apply for the exact loan amount you need, get approved and receive the money. Repaying the loan on time can increase your credit limit to 50,000 Ksh.
IPESA uses data from your phone, including SMS history, to verify your identity and create a credit score, ensuring the privacy of your information through encryption and a commitment to never share your data with third parties.
For any inquiries, you can reach IPESA through their Facebook page, email ([email protected]) or their office address at ADLIFE PLAZA, CHANIA AVENUE, NAIROBI.
How to Apply for a loan on Mpesa
Go to PlayStore on your smartphone and look for the iPesa loan application.
To start the download and installation, tap the install.
After installation, open the app, enter your phone number, and click continue.
Enter the SMS-based verification code.
Create the PIN of your choice, then click Register.
Pros
It automatically saves your most frequent pay bills
It includes an offline mode
It makes transactions very easy to handle
Cons
The font and icon on this app are small
The app is a little slow
Tala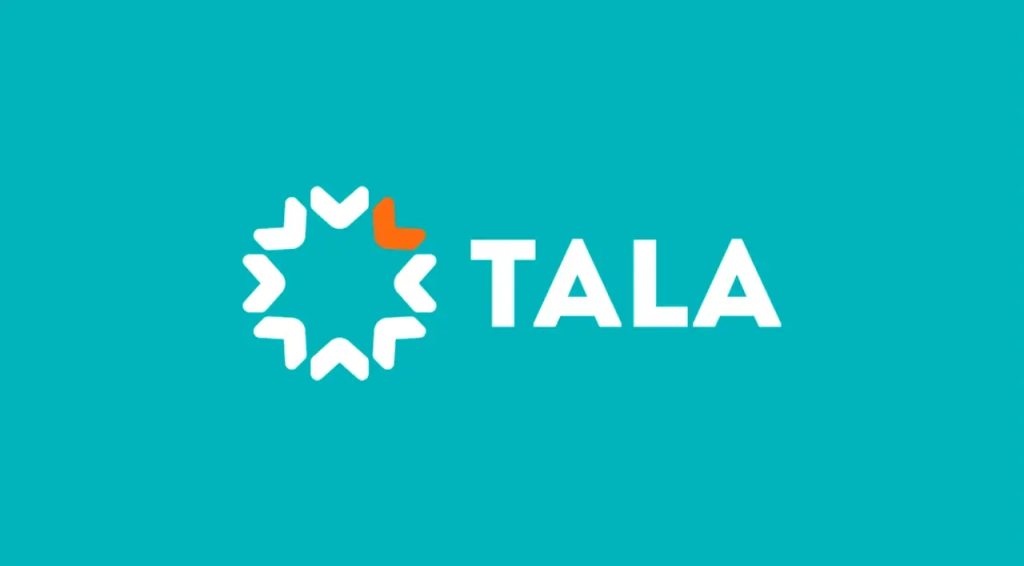 Tala provides digital financial services that enable the unbanked to borrow, save, and grow their money. Their consumer credit app is extremely user-friendly, rapidly underwriting and disbursing loans to consumers with no formal credit history.
Loan amounts range from $10 to $500, with interest rates as low as 4%. They are developing new technologies to assist people in managing their money and achieving their goals.
Tala uses alternative data to score consumers in real-time, providing rapid, customized loans to authorized borrowers and assisting them in establishing their financial identities over time.
How to apply for the loan on Tala
To apply for a Tala loan, you must first download the app and apply from within the app.
To download the app, please visit your country's official site
After downloading the app, fill out a short application on the Tala app. The application should take not take more than 15-20 minutes.
Pros
They help in powering entrepreneurs globally.
It allows for fair accessibility to loans.
It allows you to pick a convenient date to repay your loan.
It has a reminder
Cons
It comes with so many ads.
It takes a long time to become eligible for a loan
It is not available to every African
Zenka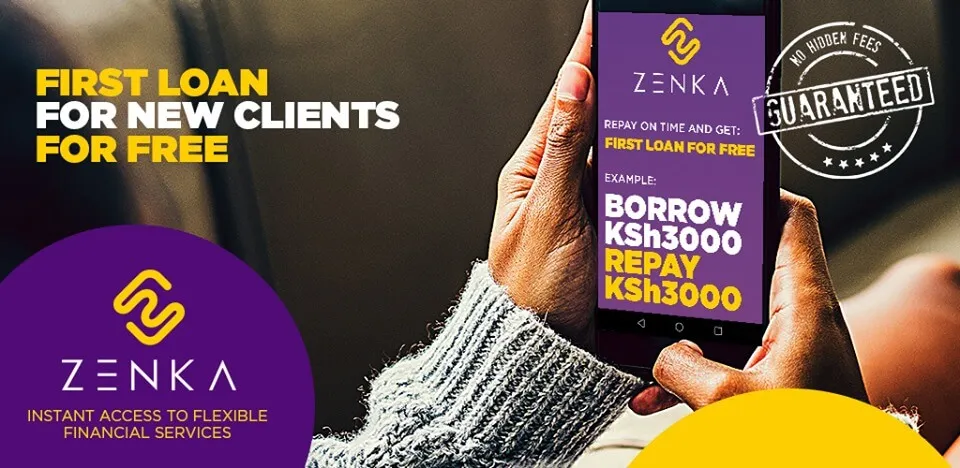 Zenka is a flexible personal loan platform that gives Kenyans greater control over their finances thanks to its unique features. It has an easy registration and application process.
Following a good approval decision, your loan will be transferred directly to your M-Pesa account. It provides consumers with 24-hour access to funding and integrates with the M-Pesa payment platform for transmitting agreed-upon loan amounts.
The Zenka Loan app avoids the typically time-consuming bureaucracy of banks. In addition to avoiding long lines in the branch, Zenka's mobile-based solution can give you a quick decision on your loan application.
This is an exciting addition to the mobile loan market, with its simple application process and quick decisions.
Zenka is one of the most versatile personal loan platforms on the market, especially when you consider the benefits of building your credit history like you would with a regular bank.
Pros
It has an excellent customer service
It has a very fast operating system
There is no need for collateral
It gives a lower interest rate
Cons
It is impossible to receive third credits
The time limit for repayment is short
Timiza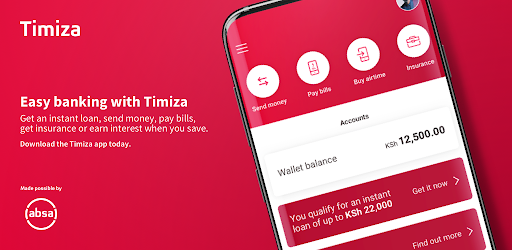 The Timiza is an easy banking app that offers financial services like loans, bill payment, insurance, investments, and transfer of money.
It was developed by Absa Group (formerly known as Barclays Bank Kenya) and is available to all interested Kenyan citizens, regardless of whether or not they have an account with the bank.
To access a loan through the Timiza app, you can follow these steps:
Download and install the app from the Google Play store
Fill in your registered M-Pesa number, and
Activate your application using the PIN that will be shared with you.
Once your application is activated, you can apply for a loan from Timiza. These loans have a repayment period of 30 days and allow borrowers to borrow up to KES 150,000.
Pros
It is easy to apply
It serves as both a loan app and a bank account
Long repayment period
Cons
Available to only Kenyans
Low maximum loan amount
Best Loan Apps In South Africa
Izwe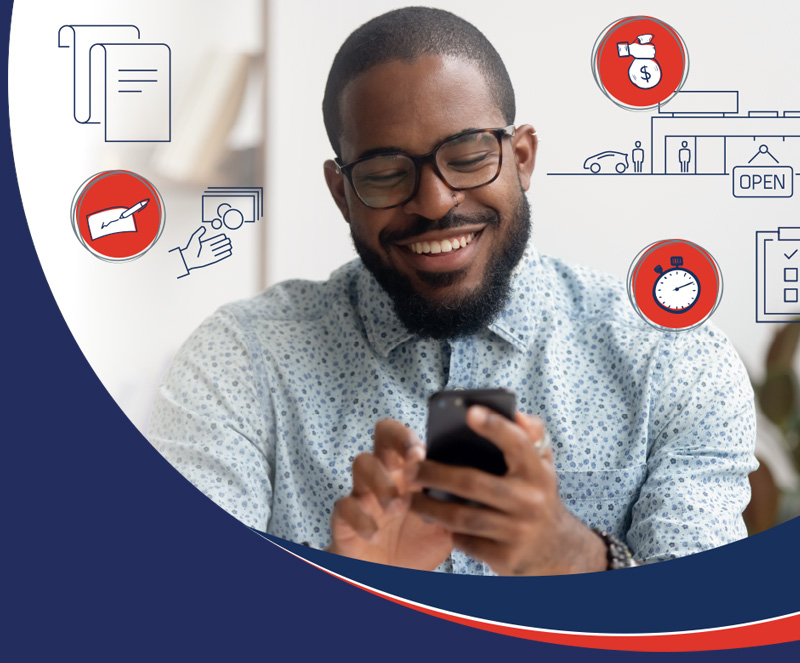 Izwe is a South African loan provider that offers low-interest rates and flexible repayment options. They have been in operation for many years and have helped many individuals with their financial needs. Izwe loans can be used for various purposes, including debt consolidation, paying school fees, and even paying off a one-month mortgage.
You can apply for an Izwe loan online through the mobile application, by phone, or via SMS. On average, the processing and payback of the loan take less than one hour. However, the application may take longer than other loans.
Izwe performs a credit check and assesses the borrower's financial situation before approving the loan. They offer flexible repayment terms ranging from twelve to sixty months. If you are a student, you can borrow up to R2,000.
If you cannot pay the total amount within a year, Izwe will continue to make monthly payments. Izwe loans were underwritten by the RCS Group, which aims to protect its customers' financial security and enhance their lives.
Pros
Easy to apply
Fast approval time
Cons
Only available to persons residing in South Africa
Capfin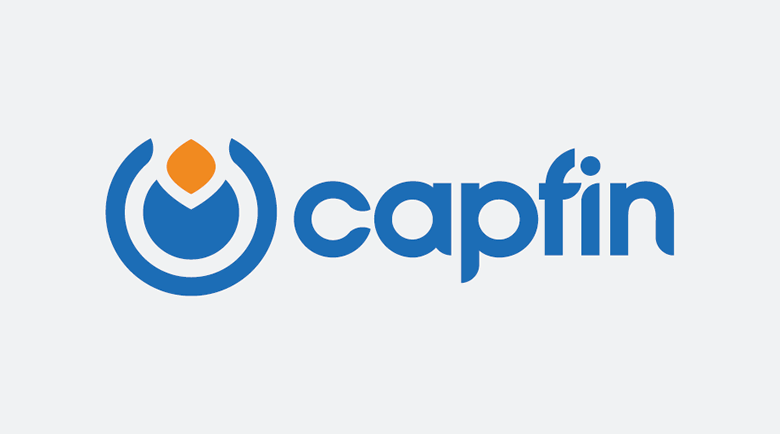 Capfin is a leading loan app in South Africa, established in 2010 to provide its customers with accessible and affordable loan products and services. The company offers loans ranging from R1000 to R50,000, with a repayment period of 6 to 12 months and an interest rate of 5-28%.
Capfin allows customers to apply for loans through their online platform or by visiting a retail affiliate store such as Pep or Ackermans. The application process is easy and flexible, and customers can access self-help login information to view and manage their accounts 24/7. They can even apply for a loan via text message. The loan application process involves providing salary information, and the repayment schedule is based on the date of salary receipt. The loan is disbursed within 48 hours of approval.
The loan app has several unique features, such as no hidden fees and interest rates, the ability to obtain bank statements directly from the bank, and easy access to the loan account. In the event of a borrower's death, the loan balance will be written off upon submission of required documents, such as the deceased's ID and death certificate.
To be eligible for a Capfin loan, individuals must be over 18 years old, have a valid South Africa ID, provide three recent payslips or bank statements, be permanently employed and earning a monthly salary, have a valid mobile phone number, and have a South Africa bank account.
Capfin loans can be applied online, through SMS or by visiting any PEP or Ackermans store nationwide. The process of submitting documents is also easy. It can be done by uploading them on the website, scanning them at a retail affiliate store, emailing them to [email protected] or faxing them to 0866880000 after applying.
The pros of taking a Capfin loan include having no hidden fees and rates, easy access to personal loans, and a quick online application process. However, a downside is that the loan app considers an applicant's bad credit score and that interest is calculated monthly.
Pros of capfin loan
No hidden fees and rate
Easy access to personal loan
It has a quick online application process
Cons
Bad credit score is considered
Interest is calculated monthly
UNIFI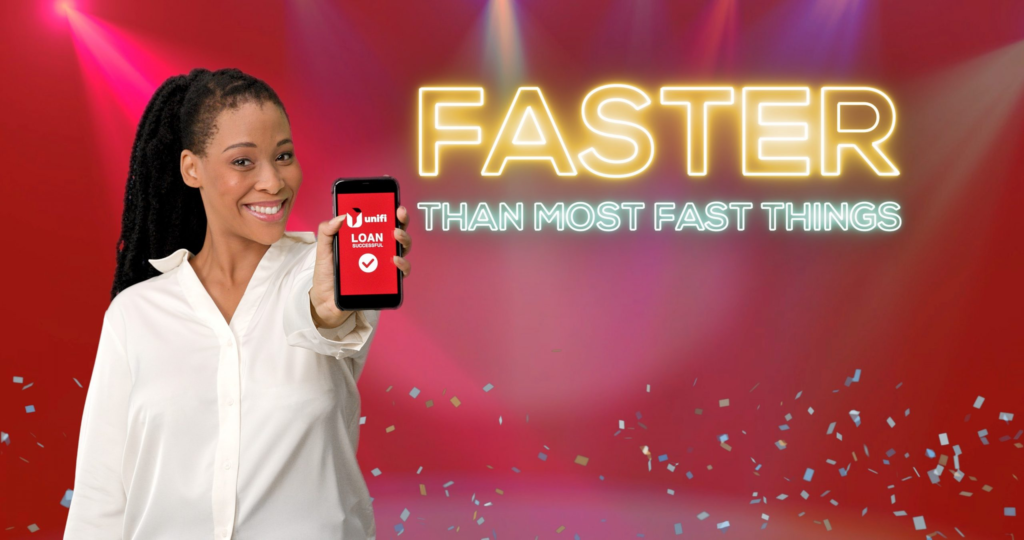 UNIFI Loans is a top lending institution in South Africa that offers personal loans with a short-term repayment period. The loans offered range from R2000 to R8000 and come with a 3% interest rate.
The application process is simple and can be completed in just a few minutes, with instant approval and fast payout. UNIFI loans are available to formally employed individuals in Sub-Saharan Africa and can be accessed through branches in Zambia and Uganda or online in South Africa.
The loan is repaid through a debit order on a pre-agreed date, so it's important to ensure that there is enough money in your bank account on that day.
Applying for a UNIFI loan is convenient and can be done from the comfort of your home using a mobile device or computer. To apply, follow these steps:
Visit www.unifi.credit and create an account by completing the application form with your ID number and password.
Fill in the required information.
Upload the necessary documents, including a South African ID, latest payslips, latest bank statements, and proof of address (e.g. utility bill).
Sign the loan agreement online and submit your application.
You will receive an email from UNIFI regarding the status of your application and confirmation.
Once approved, the loan amount will be credited to your bank account immediately.
To qualify for a UNIFI loan, you need to have a good credit score rating. Your loan application will be thoroughly reviewed in accordance with the National Credit Regulator (NCR). Your income and expenses will also be evaluated to determine if you can afford to repay the loan amount you requested.
The 3% interest rate for UNIFI loans includes initiation and monthly fees. For example, for a loan of R8000 over a 6-month period, you will pay R1830.35 per month, with a total repayment amount of R10982.13. The initial fee will be R994.75 and the monthly fee will be R69.00.
The repayment process for UNIFI loans is straightforward, and the application process is easy and convenient. However, some users have reported poor customer service and a short repayment duration as potential drawbacks.
Pros
Repayment easy
The application process is easy and comfortable.
Cons
Poor customer services
Short repayment duration
Finchoice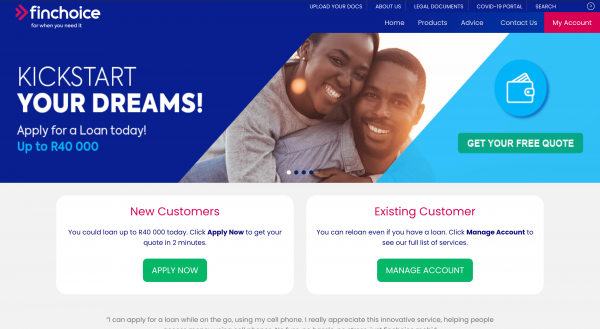 Finchoice is a highly regarded loan app in South Africa that provides quick and easy access to short-term loans for individuals. Finchoice offers a comprehensive financial platform with access to money, data, airtime, electricity, and online transactions. You can also receive instant cash with their KwikAdvance feature. The app is accessible to all South Africans and can be found on the Google Play Store.
Finchoice provides a range of affordable and simple financial products, including:
The MobiMoney facility: This option allows you to borrow between R100 and R10,000, with repayment options between 1-3 months. You only pay for what you use, with no extra charges. It's perfect for immediate cash needs or small daily expenses.
The Flexi Loan: This loan service allows you to borrow up to R8,000 and repay it over six months, with a built-in protection plan in case of death or permanent disability. You can repay the loan at your own pace, without pressure, making it ideal for emergencies.
Premier Personal Loan: This option enables you to finance expensive projects such as building a house, buying a car, or settling medical bills, with a loan amount of up to R40,000 and a repayment period of 12-36 months. You can choose your repayment duration and set up a payment plan that fits your needs.
Interest rate and duration: The interest rate starts at 24% with a repayment duration of 12-36 months.
Requirements for loan application: No documents or collateral are required to apply for a loan. All you need to do is fill in the online loan application form with your:
Full name and surname
ID number
Mobile phone number
Email address.
Pros:
The loan can be repaid in instalments, according to your convenience.
No impact on your loan application if you have a poor credit score.
The loan application process is quick and easy.
Cons:
Nifty Credit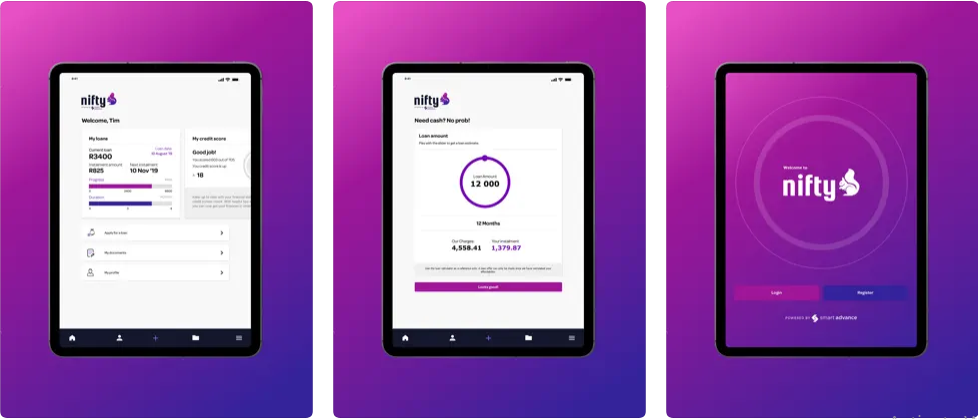 Nifty Credit is a leading loan app in South Africa that offers loans of up to R15,000 with a repayment period of 12 months. To apply for a loan through Nifty Credit, you must meet the following requirements:
Be at least 18 years old
Be a South African citizen or permanent resident
Have an active online bank account
Have a working mobile number and email address
Be employed and have a regular income within 90 days of the date of application.
One of the key benefits of Nifty Credit is the ease and speed of their loan application process. They have a smart application form that eliminates the need for paperwork and offers quick outcomes for loan applicants. Additionally, Nifty Credit offers flexible loans and disburses loans within a short period.
Nifty Credit is dedicated to providing exceptional customer service and is transparent about its fees. They believe in a no-nonsense approach to lending. They aim to ensure that small, quick, affordable, short-term, unsecured personal cash loans are available to South Africans daily without hassle. Nifty Credit operates as a lender finder and takes a different approach to help its customers get the money they need.
Pros
1t has flexible loans
It application process is easy
Nifty disburse loans within a short period.
Cons
One must be employed to qualify
Download NiftyCredit on App store
Conclusion
Loan app has made it easy for Africans to borrow money, and it has helped many small and medium Enterprises that are struggling to fund their business without much paperwork or collateral.
In this article, we have highlighted the best loan apps in Africa for you. Be sure to look at the pros and cons and pick the one that works best for you. We did thorough research and studied each to offer you the best.