| | |
| --- | --- |
| Full Name | Bola Ahmed Tinubu |
| Date of Birth | March 29, 1952 |
| Nationality | Nigeria |
| State of Origin | Lagos State |
| Political Position | President of Nigeria |
| Source of Wealth | Politics, Stock buying, and brokerage |
Bola Ahmed Tinubu's net worth is estimated to be $8.4 billion, making him the richest politician in Nigeria and the most powerful politician in the Southwestern part of the country.
Also known as Jagaban, Tinubu's influence in Nigerian politics is remarkable, and he played a significant role in breaking the 16-year rule of the People's Democratic Party (PDP) with the support of other political parties. His contributions to the All Progressive Congress (APC) have earned him both fear and admiration from his party and the opposition.
As the current president of Nigeria, inaugurated on May 29, 2023, Tinubu's political career has reached new heights, solidifying his position as a formidable entity in Nigerian politics.
In this blog post, we will delve into the details of Bola Ahmed Tinubu's net worth, backed by extensive research and interviews with his close associates. You will discover the true extent of his wealth, his biography, and an insider's view into his successful business ventures. Our analysis of Bola Ahmed Tinubu's net worth is credible and thorough, as it is based on reliable sources.
Tinubu's Net Worth
Apart from his political achievements, Tinubu's remarkable wealth is worth noting. Tinubu's estimated net worth in 2023 is $8.4 billion which is an increase by about $1.4 billion compared to Tinubu 2022 net worth which was about $7 Billion. Based on research, he is recognized as the richest politician in Nigeria. His financial success adds to his reputation and influence in the political and economic spheres.
Tinubu's Biography
Bola Ahmed Tinubu, popularly known as Jagaban, is a prominent Nigerian politician and influential figure in the country's political landscape. He was born on March 29, 1952 and hails from Lagos, Nigeria.
Education
Bola Ahmed Tinubu attended St. John's Primary School in Aroloya, Lagos for his first education and later attended the Children's Home School in Ibadan, southwest Nigeria.
For his secondary education, Tinubu travelled abroad and enrolled at Richard J. Daley College in Chicago, Illinois. Afterwards, he pursued his studies at Chicago State University, where he earned a Bachelor of Science degree in Accounting in 1979.
Following his graduation, Tinubu worked for various companies in the United States before returning to Nigeria in 1983. He secured employment with Mobil Oil Nigeria and became an executive within the company.
Career
Before Bola Tinubu got involved in politics in 1992, he had worked for American companies like Arthur Andersen, Deloitte, Haskins & Sells, and GTE Services Corporation. In 1983, he returned to Nigeria and worked for Mobil Oil Nigeria.
Bola Tinubu Previous Offices
President Bola Tinubu has served in different offices prior to taking the office of the president of Nigeria.
1. Senator of the Federal Republic of Nigeria (1992-1993)
Bola Tinubu became a Senator for the Lagos West constituency in 1993 after being elected under the Social Democratic Party (SDP). However, the military dictator Sani Abacha annulled the elections that same year.
In 1993, Tinubu was appointed the Senator for the Lagos West constituency in Lagos State, marking the beginning of his political career.
2. Governor of Lagos State (1999-2007)
After Sani Abacha died in 1998, Nigeria transitioned to civilian rule. During this period, Bola Tinubu ran for the position of governor and won the elections in 1999 under the Alliance for Democracy (AD) party. He served as 12th Governor of Lagos State from 29th May 1999 to 29th May 2007, succeeded by Babatunde Raji Fashola (SAN). Alongside his political pursuits, Tinubu is an accomplished accountant.
Bola Tinubu is an influential figure in Lagos state and the southwestern region of Nigeria. He is known as the "godfather" of many influential politicians in that area. Some people said that he claimed that President Muhammadu Buhari would not have become the president of Nigeria without his support.
President (2023-Till Date)
The 2023 Presidential Election in Nigeria marked the constitutional beginning of Bola Ahmed Tinubu's presidency on May 29, 2023. The inauguration ceremony took place at Eagle Square in Abuja, where Tinubu was sworn in as President by Chief Justice Olukayode Ariwoola at 10:41 AM (WAT). His government, having overcome legal challenges from the opposition, was widely accepted both domestically and internationally, granting it legitimacy.
During his inaugural address, President Tinubu announced the removal of government subsidy on fuel, a decision that initially caused panic buying and an overnight increase in fuel prices across Nigeria. The national labor union, NLC, called for nationwide strikes and protests in response to the fuel price hike, but these actions were later called off following ongoing negotiations with government representatives. The removal of fuel subsidy was seen as a positive development for the Nigerian economy by the World Bank, as it had been a significant burden on the country's finances for many years.
In the early days of his presidency, President Tinubu made significant changes in key positions. On the night of June 9, he suspended Godwin Emefiele, the former governor of the Central Bank of Nigeria, who was subsequently arrested by the Nigerian secret police while attempting to flee the country. Emefiele's suspension was viewed as a positive development, as it signaled a departure from conservative banking practices that had been in place for some time. Emefiele was replaced by Folashodun Adebisi as the acting governor of the Central Bank of Nigeria.
President Tinubu also made other notable appointments, including Senator George Akume as the Secretary to the Government of the Federation and Femi Gbajabiamila as Chief of Staff to the President. He suspended Abdulrasheed Bawa, the chairman of the EFCC, and appointed Abdulkarim Chukkol as the acting chairman of the EFCC. Additionally, Tinubu proclaimed Mallam Nuhu Ribadu as the National Security Adviser, signaling a shift towards civilian control of the military and a departure from the dominance of the military establishment in Nigeria's security apparatus.
In June 2023, President Tinubu embarked on his first foreign visit as Nigerian President, attending a global financial summit in Paris and later meeting with his predecessor, Muhammadu Buhari, in London. Despite implementing drastic changes in fiscal and monetary policies, Tinubu had yet to constitute his cabinet and called for a coalition government to include opposition leaders. He dissolved the boards of all ministries, departments, and agencies of Nigeria and was constrained by law to send ministerial nominations to the Senate for hearing before July 29.
However, President Tinubu faced criticism from the opposition for advocating military intervention in Niger during the 2023 Nigerien crisis. This stance drew opposition and raised concerns among some political factions.
Family
Bola Ahmed Tinubu is married to Senator Oluremi Tinubu. They have four children: Jide Tinubu (who has sadly passed away) he was around 37 years of age when he died , Oluwaseyi Tinubu his first son, who is 38 years old, Abibat Tinubu, and Folashade Tinubu (also known as Iyaloja General) is 46 years old.
Tinubu's Family Picture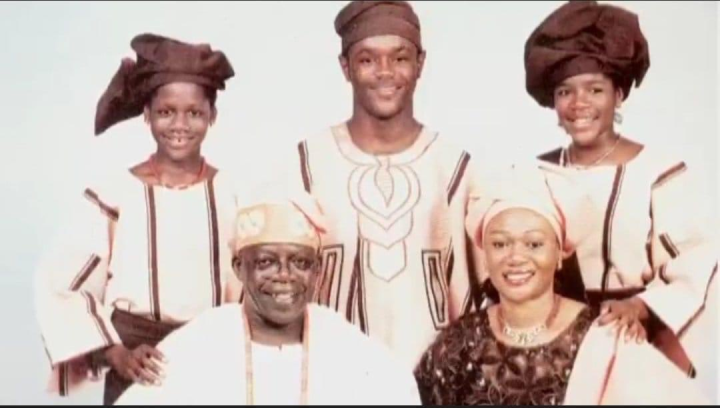 Tinubu's Properties
Tinubu owns a variety of valuable possessions, including expensive cars, luxurious houses, and a private jet. Known for his affluent lifestyle, Bola Ahmed Tinubu's car collection consists of high-end vehicles from well-known brands. His lavish houses are located in prestigious areas, and his private jet allows for convenient and luxurious travel. These assets reflect his prominent position in Nigerian politics and business.
Tinubu's Cars
Bola Ahmed Tinubu is known for his impressive car collection. Here are some of the cars he owns:
Tinubu Land Range Rover
Armoured Land Rover Range Rover
Armoured Land Rover Range Rover Sentinel: The Range Rover Sentinel is a luxury armoured vehicle engineered by Land Rover Special Vehicle Operations (SVO). It offers style, refinement, and off-road capability, while also providing the highest levels of protection against attacks.
Tinubu Prado Jeep: This specially armoured SUV is equipped with a 2.8L diesel engine and can comfortably seat seven people. It is a popular choice for individuals of prominence who prioritize security and comfort. A brand new armoured Prado Jeep starts at around N45 million.
Please note that this is not an exhaustive list of Tinubu's cars, as he is rumored to own a minimum of about 30 cars of various types. Some of these cars were purchased by him, while others were gifted to him by colleagues and friends.
Tinubu's Houses
Bola Ahmed Tinubu owns several notable properties across Lagos State and beyond. One of his prominent residences is located on Bourdillon Road in Ikoyi, Lagos, valued at over N650 million.
Additionally, Tinubu is the owner of Lakowe, near Abijo in Ibeju-Lekki, estimated to be worth around N80 billion. This land was reportedly allocated to him for personal project development. Another notable property in his possession is the Ikoyi Estate Foreshore, previously owned by the Lagos State government.
Tinubu also owns houses in Oyinkan Abayomi, Ikoyi, Asokoro in Abuja, and other prime locations in Lagos, including the Atlantic beachfront and Eleko junction. He also has a house in Banana Island. Tinubu also own a car park at Gbangbose Lagos Island, Lagos, Nigeria, Nigeria. These properties showcase his significant real estate holdings in Nigeria.
Tinubu's Private Jet
Besides his impressive collection of exotic cars, Bola Ahmed Tinubu is the proud owner of a private Bombardier Global 6000 Express jet. This luxurious aircraft, valued at approximately 29 billion naira ($75 million), provides Tinubu with the convenience and comfort of air travel, particularly for international functions.
Philanthropic Act
Bola Tinubu is a wealthy and generous politician in Nigeria. He has given millions of dollars to charities and essential things in Nigeria, like schools, hospitals, and helping people affected by disasters. He also really likes and supports the arts and culture and has given money to projects that promote Nigerian culture. Tinubu's generosity has made a big difference in the lives of many Nigerians, and people think highly of him for always helping others.
How Did Tinubu Make His Money
Bola Ahmed Tinubu is a Nigerian politician and businessman. While there are different sources of information regarding his wealth, it is widely believed that Tinubu accumulated his fortune through various business ventures and political activities. Here are some of the key aspects of how he is reported to have made his money:
Bola Tinubu's Companies and Investments
Bola Tinubu also has a powerful business empire that is not widely known to the public. Here is a list of some of the properties he is reported to own, according to our research:
The Nation Newspaper
Lekki Concession Company
First Nation Airline
Tejuoso Market (joint ownership)
Tax Collector of Lagos State (owns Alpha Beta, a company with Prof. Osinbajo as a director)
Ikeja Shopping Mall
Radio Continental
Oriental Hotel
TV Continental
Apapa Amusement Park
Renaissance Hotel
Maiyegun Land Project
Converted Lagos Poly land for TVC
Falomo Shopping Complex
Owned NNPC Office building in Lagos
Oando Oil (receives a significant annual petroleum subsidy from the government, over $500 million)
Owned School of Nursing building in Lagos
The Nation Newspaper
Bola Tinubu is believed to have an ownership stake in The Nation Newspaper, a widely circulated Nigerian daily newspaper.
The Nation Newspaper is a Nigerian daily newspaper that was established in 2006. It is known for its coverage of Nigeria's politics, business, and current affairs. The newspaper has gained prominence as one of the major print media outlets in the country.
As an influential politician and leader of the All Progressives Congress (APC) party, Tinubu has utilized The Nation Newspaper to disseminate information, express his political views, and connect with the public. The newspaper has published articles and editorials that align with Tinubu's political interests and perspectives. Bola Ahmed Tinubu makes millions of naira from The Nations Newspaper yearly. The newspaper generates revenue through advertising, subscriptions, and sales, contributing to Tinubu's income.
Television Continental (TVC)
Tinubu is reported to have a stake in TVC, a Nigerian television network that operates TVC News, a 24-hour news channel.
Television Continental (TVC) is a Nigerian television network that offers a variety of programming, including news, entertainment, sports, and current affairs. Bola Tinubu is associated with TVC. TVC generates revenue through advertising, sponsorships, and commercial activities, contributing to his financial interests.
Tinubu's association with TVC primarily stems from his political influence and ownership through his media company, Consolidated Media Associates (CMA). CMA, connected to Tinubu, acquired controlling stakes in TVC Communications in 2008.
Under Tinubu's ownership, TVC has aimed to provide a platform for news and entertainment that aligns with his political interests and perspectives. However, it's important to note that media organizations strive to maintain editorial independence and deliver unbiased news, regardless of ownership structure.
TVC has expanded its reach over the years and has become one of the major television networks in Nigeria. It broadcasts various programs, including news bulletins, talk shows, reality shows, dramas, and sports events. TVC is estimated to
Lekki Concession Company
Lekki Concession Company Limited ("LCC") is a Special Purpose Vehicle set up expressly to execute the Eti-Osa Lekki Toll Road concession project. The company is designed to deliver essential road infrastructure and services along the Lekki Peninsula of Lagos. LCC operates and manages the Lekki toll gate in Lagos, Nigeria, which generates revenue through toll collections, which has significantly contributed to Tinubu's Net worth.
Apapa Amusement Park
Apapa Amusement Park is a popular recreational destination in the Apapa area of Lagos, Nigeria. It provides a range of entertainment options and attractions for people to enjoy. The park features thrilling rides, including roller coasters, carousels, and Ferris wheels, providing exhilarating experiences for visitors.
Additionally, there are game stalls, food courts, and picnic areas within the park, offering opportunities for leisure and relaxation. Apapa Amusement Park is often frequented by families, friends, and individuals seeking fun and recreation in Lagos.
Oriental Hotel
Tinubu is associated with the ownership of the Oriental Hotel in Lagos, Nigeria. Oriental Hotel is a renowned luxury hotel situated in Lagos, Nigeria. It is known for its opulent and stylish accommodations, providing guests with a comfortable and lavish experience.
The hotel offers a range of amenities, including multiple dining options serving local and international cuisine, state-of-the-art fitness facilities, swimming pools, spa services, and well-equipped conference and event spaces. Oriental Hotel is often chosen by business travellers, tourists, and individuals seeking a high-end hospitality experience in Lagos.
Bola Tinubu reportedly earns money from Oriental Hotel through his investment in the property. As a stakeholder, he likely benefits from the revenue generated by the hotel, which comes from various sources such as room bookings, event hosting, restaurant services, and other hospitality-related activities.
Alpha Beta Consulting
Alpha Beta Consulting is a financial consulting firm that provides services to the Lagos State government. It has been reported that Tinubu has a significant interest in this company. Alpha Beta Consulting is primarily known for its financial consulting services, particularly in revenue collection and auditing.
Bola Tinubu reportedly earns money through Alpha Beta Consulting by having ownership or financial interests in the company. Alpha Beta Consulting has been contracted to provide tax collection services, and Tinubu's involvement allows him to benefit financially from the revenue generated by the company's activities.
The Lagos State Government in Nigeria has contracted the company to provide services related to collecting and managing internally generated revenue (IGR). Alpha Beta Consulting assists the government in enhancing revenue collection efficiency, implementing technology-driven solutions, and conducting audits to ensure transparency and accountability in revenue processes.
Oando PLC
Bola Tinubu has been reported to have had significant investments in Oando PLC, an integrated energy company in Nigeria. However, it is essential to note that his involvement with the company has been a subject of controversy and legal disputes.
Oando PLC is a Nigerian multinational energy company involved in exploring, producing, marketing, and distributing petroleum and gas products. Bola Tinubu was one of the co-founders of Oando, along with his business partner, Mofe Boyo.
The company was established in 1994 as Ocean and Oil Limited and underwent a series of mergers and acquisitions, eventually becoming Oando PLC in 2003. Oando grew to become one of Africa's largest integrated energy companies, with operations spanning across Nigeria and other African countries
Tinubu's involvement in Oando was instrumental in the early stages of the company's growth. However, in 2004, he sold his stake in Oando, reportedly due to a conflict of interest with his political career.
Falomo Shopping Complex
Bola Ahmed Tinubu is said to have owned the famous big shopping complex in Lagos, Nigeria, Falomo shopping complex. His daughter is the head of the female traders in the market. President-elect Bola Ahmed Tinubu generates part of his income for the international market through levies and taxes paid by traders in the shopping complex.
First Nation Airline
First Nation Airways is an airline based in Nigeria. It was established in 2011 and operated scheduled domestic and international flights. The airline aimed to provide passengers with safe, reliable, and comfortable air travel services. First Nation Airways operated a fleet of aircraft that included Airbus A319 and A320 models.
Ikeja shopping mall
Ikeja Shopping Mall is a prominent retail and entertainment complex in Ikeja, Lagos, Nigeria. It is one of the city's largest and most popular shopping destinations. The mall houses various stores, ranging from local and international fashion brands to electronics, home goods, and groceries.
Visitors can find a diverse selection of restaurants, cafes, and food courts offering a range of cuisines. In addition to shopping and dining options, the mall features a cinema, a children's play area, and entertainment facilities, making it a popular destination for families and individuals seeking leisure and entertainment.
Tinubu a stakeholder, likely benefits from the revenue generated by the mall, which comes from tenant rentals, lease agreements, and various commercial activities within the premises.
Ikeja Shopping Mall is well-known for its modern facilities, convenient location, and vibrant atmosphere, attracting both residents and tourists.
Tejuoso Market (Joint ownership)
A famous and enormous market in Lagos, Nigeria, is allegedly owned by Asiwaju Bola Ahmed Tinubu and others. Tinubu is said to have a large share of the market.
Renaissance Hotel
One of the long lists of Tinubu businesses is Renaissance Hotel, located in Ikeja GRA. The hotel is known for its luxury and self-appealing environment. The hotel offers a range of amenities, including multiple dining options serving local and international cuisine, state-of-the-art fitness facilities, swimming pools, spa services, and well-equipped conference and event spaces.
Renaissance Hotel is one of the surest plugs often chosen by business travellers, tourists, and individuals seeking a high-end hospitality experience in Lagos. Renaissance Hotel is reported to be owned by Bola Ahmed Tinubu. As an owner, he likely receives a share of the revenue generated by the hotel, which comes from various sources such as room bookings, events, dining, and other hospitality services.
Real Estates
One of the ways Bola Tinubu is reported to have made money is through real estate. Real estate involves buying, developing, and selling properties like houses, land, and buildings. Tinubu has been actively involved in real estate development and investment.
It is believed that Tinubu owns a significant number of properties in Lagos, which is a bustling city in Nigeria, as well as in other parts of the country. Lagos, in particular, has experienced rapid growth and development over the years, leading to increased demand for housing and commercial spaces.
Investing in real estate can be profitable because the value of properties tends to increase over time. As an investor, Tinubu may have purchased properties at lower prices and sold them at higher prices when their value increased. Additionally, he may have generated income by renting out his properties to tenants.
Real estate development involves constructing or improving new buildings to increase their value. Tinubu may have engaged in such development projects to create new properties or enhance the value of existing ones. This can include activities like building residential estates, shopping malls, office complexes, or hotels.
Tinubu could have generated substantial income and amassed wealth through his real estate ventures. The growth and development of Lagos, along with his property holdings, could have contributed to his financial success. However, it's important to note that specific details about his real estate investments and their financial performance are not publicly disclosed, so the extent of his wealth from this sector is subject to speculation and estimation.
Controversies Surrounding Tinubu
Bola Tinubu, in recent years, has been involved in various controversies. In 2014 he was accused of being part of a corrupt land deal worth a large sum of money. This accusation suggested that he had engaged in dishonest practices related to the transaction.
Moreover, Tinubu has faced allegations of nepotism and cronyism. These claims imply that he has shown favouritism towards his close associates and family members when making important decisions or granting opportunities. Such allegations raised concerns about fairness and transparency in his actions.
Also, Peter Obi, the Labour Party (LP) presidential candidate, lodged a petition to contest the proclaimed victory of Bola Tinubu from the All Progressives Congress (APC) in the election held on 25th February 2023. The filing of this petition has sparked a contentious debate surrounding the legitimacy and fairness of the election results, with Obi challenging Tinubu's claim to the presidency. This development has brought about heightened political tensions and legal scrutiny as both parties engage in a high-stakes battle to determine the rightful outcome of the election.
Controversy also arose during the 2023 elections, where concerns arose among many individuals regarding the health of Bola Tinubu and whether he could serve as a stable president for the country. These concerns stemmed from reports and speculations about Tinubu's health condition, leading to debates and discussions about his ability to effectively fulfil the responsibilities and demands of the presidential role.
Conclusion
In conclusion, Bola Tinubu is a very powerful and wealthy politician in Nigeria. He has helped improve Lagos State and has been important in national politics. Some people criticize him because of his highly private life and great influence but he is still respected in Nigerian politics.
Frequently Asked Questions
Who is the richest between Bola Tinubu and Peter Obi?
Bola Tinubu is considered the wealthiest politician in Nigeria, while Peter Obi, a successful businessman and former governor, is also quite rich. However, regarding net worth, Tinubu's wealth is estimated to be around $8.4 billion, whereas Peter Obi's net worth is approximately $10 million. Therefore, Tinubu is significantly wealthier than Peter Obi.
Who is the richest between Bola Tinubu and Atiku?
Based on available financial data, Bola Ahmed Tinubu has a higher net worth than Atiku Abubakar. Tinubu's wealth is estimated at around $8.4 billion, whereas Atiku's net worth is approximately $1.6 billion. This indicates that Tinubu's overall wealth, encompassing assets and investments, is estimated to surpass Atiku's.
How old is Tinubu first son?
Tinubu's first son was Jide Tinubu, but he died in 2017 at the age of 37, now Tinubu's first son is Seyi Tinubu, and he is 38 years old.
How old is Tinubu ?
Tinubu is 71 years old; he was born on the 29th of March 1952.
How many children does Tinubu have?
Tinubu is known to have four children. Their names are Jide Tinubu, Folashade Tinubu-Ojo, Oluwaseyi Tinubu, and Abibat Tinubu.
Which state is Tinubu from?
Tinubu was born in Lagos into a merchant family; therefore, he is from Lagos State.
Does Tinubu have a hotel in Dubai?
No, but Tinubu has six houses and other business ventures in Dubai.
Is Tinubu the owner of TVC?
Yes, Tinubu is the owner of TVC (Television Continental). However, it is important to note that ownership of TVC involves multiple stakeholders, and Tinubu is just one of them.
Is Tinubu in Nigeria?
He was formerly not in Nigeria but returned to the country after his trip to France for work.
Is Adewale Tinubu related to Bola Tinubu?
Yes, Adewale Tinubu is related to Bola Tinubu. Adewale Tinubu is the nephew of Bola Tinubu.
Is Tinubu the owner of Oriental Hotel?
No, Bola Ahmed Tinubu is not the owner of Oriental Hotel. Oriental Hotel is owned by the Nigerian Ports Authority (NPA), which is a government agency responsible for managing the ports in Nigeria.
How many sons does Tinubu have?
Tinubu has two sons, Jide Tinubu and Seyi Tinubu.
How many hotels does Tinubu have?
Tinubu does not own any hotel, but he has shares in some particular hotels like Oriental hotel and Renaissance hotel