The Middle Belt region is located at the crossroads between the North and South. In this article, we will explore the list of Middle Belt states in Nigeria including the Federal Capital Territory, and places like Benue, Kogi, Kwara, Nasarawa, Niger, and Plateau. The region is like a bridge that goes from the top to the bottom of Nigeria. It connects the cultures of the North and the South.
The idea of the Middle Belt came about during an important time in Nigeria's history. It was thought up by General Sani Abacha, who was a former leader of the country. The goal was to bring the different parts of Nigeria closer together by creating a place that connects the North and the South.
But the Middle Belt is not just about its location on the map. It's a mix of many things – different groups of people, languages, and histories. Some people call it the North Central region. It is a place where various ethnic communities live together peacefully.
Join us as we dive deep into each of these states, exploring their history, culture, economic contributions, the variety of tribes that call them home, and much more
List of Middle Belt States in Nigeria, Population, Total Area & Key Assets
| | | | |
| --- | --- | --- | --- |
| State | Population | Total Area (km²) | Key Asset(s) |
| Plateau | 4,717,300 | 30,913 | Mineral resources (columbite and tin) |
| Adamawa | 4,902,100 | 36,917 | Cultural diversity, Benue River |
| Federal Capital Territory | 3,067,500 | 7,315 | Administrative hub, Nigerian presidency |
| Benue | 6,141,300 | 34,059 | Agricultural productivity, rich mineral deposits |
| Kogi | 3,551,000 | 29,833 | Confluence of Rivers Niger and Benue, hydroelectric power stations |
| Kwara | 3,551,000 | 36,825 | Agricultural productivity, natural attractions |
| Niger | 6,783,300 | 76,363 | Hydroelectric power stations, Farin Ruwa Waterfalls |
| Nasarawa | 3,743,800 | 27,117 | Natural wonders, agricultural productivity |
| Taraba | 3,067,500 | 54,473 | Diverse cultural heritage, natural resources |
1. Plateau State
Population: 4,717,300
Total area: 30,913 Km²
Plateau State, right in Nigeria's Middle Belt, mirrors the complex diversity and challenges the nation faces. Established in 1976, it occupies a central position in east-central Nigeria, sharing borders with Taraba to the east, Bauchi and Kaduna to the north, and Nasarawa to the south and west.
The state's landscape is an embodiment of natural wonders – from rock formations and hills to beautiful waterfalls. Unlike much of Nigeria, Plateau State enjoys a near-temperate climate, with temperatures between 13 and 22 °C. The dry season, from March to April, brings warmer weather, while the calmer Harmattan winds occur majorly between December and February.
In Jos, the state capital, a blend of cultures weaves the fabric of one of Nigeria's oldest cities. The ethnic groups residing in Plateau State, Berom, Afizere, Amo, Anaguta, and others coexist as equals, contributing to the region's cultural vibrancy.
Beneath this surface, however, lies a history marred by ethno-religious conflicts. Jos has been a hotspot since the 1990s, often fueled by competition for limited resources. These clashes have pitted Muslim Fulani pastoralists against Christian Berom farmers, resulting in significant casualties, massive displacements, and the destruction of entire towns.
Efforts such as the Jos Forum Inter-Communal Dialogue have aimed to foster peace, but Plateau State continues to struggle with the deep-rooted challenges. Beyond these conflicts, the state plays a role in Nigeria's economy as a major exporter of minerals, particularly columbite and tin.
From serene landscapes to cultural intersections and ongoing resilience, Plateau State encapsulates the essence of Nigeria's diversity and the journey towards peaceful coexistence.
2. Adamawa State
Population: 4,902,100
Total area: 36,917 km²
Taking its place as the 8th largest state in Nigeria in terms of land area, Adamawa State sprawls across approximately 36,917 km², weaving together a tapestry of cultures and landscapes. Formerly a part of the defunct Gongola state, Adamawa's transformation began with the creation of Taraba State in 1991. This marked a new chapter for the state, now known for its capital, Yola.
In the northern stretch of Nigeria, Adamawa State stands as a crossroads for various tribes, each contributing to the vibrant mosaic that defines the region. Among these tribes are the Daka, Fulani, Bille, Dura, Kanuri, and more, reflecting the rich cultural tapestry present in the state.
Its geographical neighbours include Borno and Gombe to the north, Cameroon to the east, and Taraba to the west. The lifeblood of the Benue River and its branch courses through this land, sustaining a region characterised by short-grass savannas.
Life in Adamawa is excellent, as livestock herding and crop farming constitute a significant aspect of communities. The varied geography of the land provides a place for these activities, nurturing crops and the traditions and livelihoods of its people.
From the urban pulse of Yola to the rural expanses, Adamawa's essence lies in the fusion of ancient practices and modern aspirations. The echoes of history resonate through its diverse cultures, while the pulse of nature echoes across its landscapes.
As a member of the Middle Belt states, Adamawa contributes to the ongoing narrative of unity that threads through Nigeria's fabric. From its bustling capital to its vibrant communities, Adamawa also stands as evidence of this legacy, a bridge that unites regions and cultures, embodying the spirit of harmonious diversity.
3. Federal Capital Territory 
Population: 3,067,500
Total area: 7,315 km²
In, 1976, the Federal Capital Territory (FCT) was created, serving as a different administrative region. At its core lies Abuja, the capital of Nigeria, strategically located near the nation's geographic centre. This area is enriched by a blend of cultures, with the Gwari, Hausa, Koro, Fulani, Ganagana, Afo, Gwandara, and Bassa communities calling it home. It was formed from portions of the former Kwara, Niger, Kaduna, and Plateau States, with most of its land taken from Niger State.
Abuja holds the distinction of being Nigeria's capital and one of the Middle Belt states. Once, the title belonged to Lagos, but Abuja's emergence shifted the administrative control centre. The FCT encompasses the seat of the Nigerian presidency, a significant symbol of governance. Unlike traditional states with elected governors, Abuja is overseen by the Federal Capital Territory Administration, led by a minister appointed by the President.
The geographic location of Abuja is equally remarkable, in between latitudes 8.25 and 9.20 north of the equator and longitudes 6.45 and 7.39 east of the Greenwich Meridian. Spanning approximately 7,315 km², the FCT rests within the embrace of the Savannah region, offering moderate climatic conditions.
Abuja also has beautiful tourist destinations, with the iconic Zuma rock as a major attraction. This monolith is believed to possess healing powers, drawing visitors from near and far. Beyond Zuma Rock, Abuja has numerous captivating spots that promise leisure and enjoyment.
Abuja stands as one of the few purpose-built cities globally. The city is a visual delight with well-planned roads, undulating landscapes, and modern Nigerian architecture. However, the challenge of erratic power supply often tempers its charm.
The Abuja Municipal Area Council (AMAC) stands at the heart of Nigeria's governance, encompassing the Federal Capital Territory and designated as one of the six local area councils. Surrounded by Kuje, Gwagwalada, Kwali, Bwari, and Abaji, Abuja hosts the headquarters and offices of numerous government institutions, predominantly in Garki and the Central Business District. Notably, the National Assembly, the legislative arm of the government, finds its home in Maitama.
Abuja's narrative is one of rapid growth, marking it as one of the world's rapidly expanding cities. Though the exact population remains uncertain, the capital territory was estimated to house 3.5 million inhabitants in 2016.
As a Middle Belt state, Abuja bridges cultures and significance. Beyond its governance role, the FCT represents a canvas of natural and architectural beauty. It beckons tourists with the enigmatic Zuma rock and many recreational options. A temperate climate adds to its charm, making Abuja a truly captivating destination in Nigeria's heart.
4. Benue State 
Population: 6,141,300
Total area: 34,059 km²
In the northern expanse of Nigeria, Benue State is known as one of the country's Middle Belt states. The city of Makurdi is its capital. Agriculture is at the core of Benue's identity, earning it the "Food Basket of the Nation." Its fertile lands supply food to various regions across Nigeria.
Named after the Benue River, the state emerged 1976 from the former Benue-Plateau State. Its legacy dates back to the early twentieth century, evolving from the Munshi Province into its current form. Warm and hospitable, Benue State is known for its evolution, hosting its own State University and offering a taste of its rich cultural diversity through warm hospitality and delectable cuisine.
Within Benue State, the Tiv community is the largest ethnic group, coexisting harmoniously with smaller communities. They cultivate various crops, including soybeans, sesame seeds, shea nuts, yams, cotton, maise, and rice. Rich deposits of niobium, tin, and marble make mining common.
The state is home to the Tiv, Idoma, Igede, and Etulo peoples. Colourful clothes, captivating masquerades, rhythmic music, and enchanting dances bring the cultural heritage of Benue to life. Dances like Ingyough, Ange, Anchanakupa, Swange, and Ogirinya have caused both national and international cultural festivals.
Beyond its cultural richness, Benue State is economically significant, ranking among Nigeria's top 20 richest states. Agriculture is its treasure trove, yielding crops like sweet potatoes, cassava, soya beans, guinea corn, flax, yams, sesame, rice, groundnuts, and the majestic Palm Tree.
A visit to Benue State is an invitation to explore its beautiful landscapes and embrace its vibrant traditions. It stands as a bridge between regions and narratives, enriching Nigeria's cultural fabric as a Middle Belt state.
5. Kwara State 
Population: 3,551,000
Total area: 36,825 km²
Within Nigeria's diverse geography, Kwara State defies simple categorisation within the Middle Belt identity. Its complex blend of cultures, landscapes, and historical significance paints a unique picture of this region. Formed in 1967 during the restructuring of parts into states, this historical development influenced the state's cultural dynamics and identity.
Its geography encompasses a variety of ecosystems, from the West Sudanian savanna in the east to the Guinean forest-savanna mosaic in the west. Rivers like the Niger, Awun, Asa, Aluko, and Oyun crisscross the state, shaping its land and providing crucial resources.
Culturally, Kwara State is home to a variety of ethnic groups. The Yoruba form the primary group, accompanied by the Nupe, Bariba, and Fulani minorities. This diversity enriches the state's cultural tapestry and language landscape.
The state's economy depends on agriculture. Natural resources like petroleum, gold, limestone, and more contribute to its wealth. Cash crops such as cotton, cocoa, coffee, kola nut, and palm produce drive economic activity. Livestock farming, particularly cattle, goats, and sheep, also plays a vital role.
Kwara State has a range of attractions, from the artistic heritage showcased at the Esie Museum to the natural wonders of Owu Waterfalls and Imoleboja Rock Shelter; the region offers diverse experiences. Kainji Lake National Park showcases its biodiversity, catering to nature enthusiasts.
Kwara State's twisted blend of cultures, diverse geography, economic significance, and historical roots set it apart within Nigeria's Middle Belt. This multifaceted identity reminds you of the complexity that defines the nation's regions, contributing to its rich cultural heritage.
6. Kogi State
Population: 4,466,800
Total area: 29,833 km²
Kogi State, established in 1991, is in Nigeria's North Central region. Its diverse cultures, geography, and history make it unique. Its landscape starts from the tropical Guinean forest-savanna ecoregion to the confluence of the Niger and Benue rivers at Lokoja. Kogi's history traces back through different states and empires, reflecting Nigeria's evolving administrative landscape.
The state's population comprises various ethnic groups, including Igala, Yoruba, Igbira, and Nupe, adding to its rich cultural fabric. Agriculture forms the economic backbone, with crops like yams, cassava, rice, and cashews contributing significantly.
Lokoja, the capital, attracts tourists due to its confluence location and historical significance. The state also has essential hydroelectric power stations. The state also has a vibrant linguistic range, with Igala, Ebira, and Okun (a Yoruba subgroup) as the main ethnic languages.
Kogi's significance includes its role in naming Nigeria, thanks to Flora Shaw's observation of the River Niger from Lokoja.
7. Niger State 
Population: 6,783,300
Total area: 36,800 km²
Niger State, located in Nigeria's North Central region, is distinguished by its cultural richness and natural beauty. Formed in 1976 from the division of the North-Western State, Niger State has historical ties to figures like Ibrahim Babangida and Abdulsalami Abubakar, former military rulers.
The state is home to diverse ethnic groups, including Nupe, Gwari, Busa, Kamberi, Hausa, Fulani, Kamuku, and Dakarki. Islam is the dominant religion, and farming is a prevalent occupation.
Niger's landscape comprises wooded savannas and the Kaduna River's floodplains. Hydroelectric power stations like Kainji Dam and Shiroro Dam harness the water resources, while the River Niger adds to the state's significance.
Gurara Falls, a prominent natural wonder, and Kainji National Park, Nigeria's largest, contribute to the state's appeal. The park encompasses Kainji Lake, Borgu Game Reserve, and Zugurma Game Reserve. The River Niger flows through the state, enriching its beauty and cultural importance.
The state's social status is woven from diverse religions and traditions, exemplifying Nigeria's unity in diversity.
8. Nasarawa State 
Population: 2,886,000
Total area: 27,117 km²
Nasarawa State, in Nigeria's North Central region, stands as evidence of cultural diversity and natural beauty. Named after the historic Nasarawa Emirate, the state was established on 1 October 1996 during the Abacha government. Nasarawa's historical journey involves being annexed by the Sokoto Caliphate after the Fulani jihad in the early 1800s and subsequent British expeditions that integrated it into the Northern Nigeria Protectorate. It remained part of various regions until becoming an independent state in 1996.
Agriculture serves as the economic backbone, with various cash crops cultivated year-round, sustaining the livelihoods of its residents. Home to Farin Ruwa Falls, one of Africa's tallest waterfalls, and the Salt Village in Keana, known for its naturally iodised salt production, Nasarawa State is endowed with captivating natural wonders.
The state's strategic location in the North Central zone, with Lafia as its capital, offers vast arable land for commercial farming, fishery development, and forestry conservation.
Geographically, Nasarawa borders Taraba and Plateau to the east, Kaduna to the north, Kogi and Benue to the south, and the Federal Capital Territory to the west.
The state hosts a series of ethnic groups, including Koro, Yeskwa, Kofyar, Eggon, Gwandara, Mada, Ninzo, Nungu, Alago, Goemai, Megili, Eloyi, Tiv, Idoma, Gade, Gbagyi, Hausa, and Fulani. This diversity extends to its religious landscape, with Muslims constituting about 61% of the population, Christians around 39%, and followers of traditional ethnic religions.
Economically, sesame, soybeans, groundnut, millet, maise, and yam cultivation form the foundation of Nasarawa's prosperity. Services and livestock herding also contribute to its economic fabric. Despite historical conflicts, Nasarawa State maintains Nigeria's nineteenth-highest Human Development Index and hosts various universities.
Nasarawa State's blend of cultures, captivating landscapes, and historical evolution positions it as a noteworthy entity in Nigeria's North Central region. Its commitment to sustainable development and unity amid diversity showcases its vibrancy and resilience within the nation.
9. Taraba State
Population: 2,294,800
Total area: 54,473 km²
Established in 1991, Taraba State is a diverse and culturally rich region in Nigeria's Middle Belt. It shares borders with Bauchi, Gombe, Adamawa, Benue, Nasarawa, and Plateau. The state's northern landscape is characterised by expansive wooded savannas, providing a backdrop for agricultural activities that sustain many residents.
Named after the Taraba River, which flows through its southern part, the state's capital is Jalingo. It's a melting pot of ethnic groups, including Fulani, Tiv, Mumuye, Mambilla, Wurkuns, Jukun, Kuteb, Yandang, Ndola, Itchen, Tigun, and Jibu. Over 77 distinct tribes contribute to its linguistic diversity.
Different ethnic groups dominate various regions. The northern parts are home to the Fulani of the Muri emirate. In the south, Jukun, Chamba, Tiv, Kuteb, and Ichen communities thrive, while the central region hosts the Fulani, Mambilla, and Jibu peoples.
Agriculture forms the backbone of Taraba's economy, with each ethnic group contributing to cultivating various crops. The state's landscapes vary from wooded savannas to riverine areas, with the Taraba River flowing through, enhancing its natural beauty. Taraba's strength lies in its unity amid diversity, reflecting Nigeria's broader identity as a culturally composite nation.
Taraba State's narrative revolves around its cultural vibrancy, diverse landscapes, and economic importance. It stands as a microcosm of Nigeria's strength in embracing differences, and its significance as a Middle Belt state is a testament to the nation's unity in diversity.
Middle Belt Map
The Middle Belt Zone in Nigeria encompasses nine official states. While the exact geographical boundaries of the Middle Belt are not clearly defined due to shared borders with other states, the image below provides a visual representation of the Middle Belt region and its constituent states.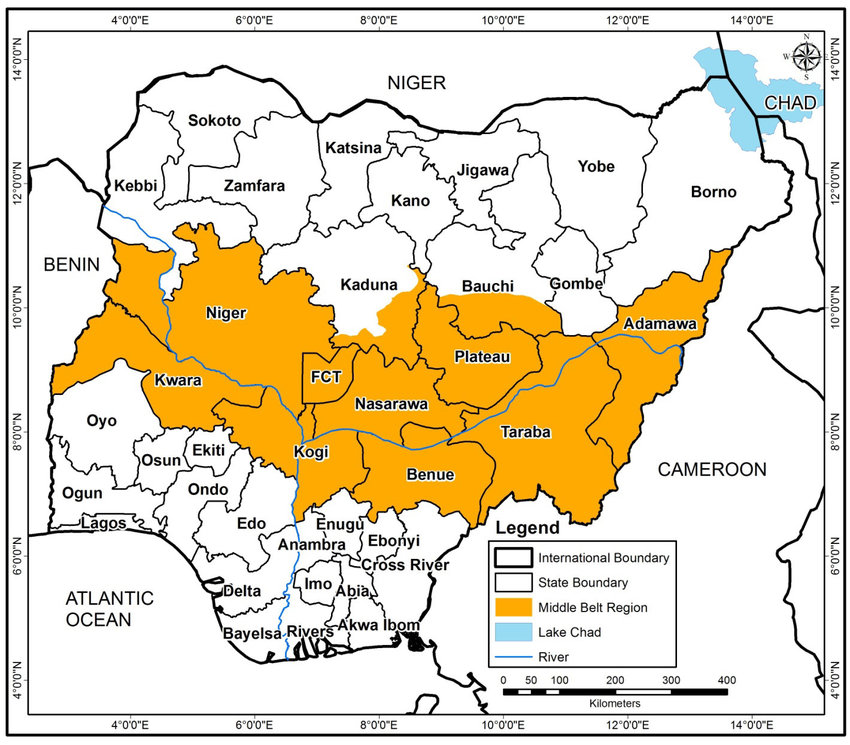 It's worth noting that some northern states also claim to be part of the Middle Belt due to the fluidity of borders and geographical connections. The unique geographic positioning of the Middle Belt states contributes to this ambiguity in defining its precise boundaries.
Nigerian Geopolitical Zones
There are six (6) in Nigeria, and they include;
North West Nigeria region
North East Nigeria region
South West Nigeria region
South-East Nigeria region
South-South Nigeria Region
The Middle Belt of Nigeria is referred to as North Central.
Conclusion
In conclusion, the Middle Belt region of Nigeria holds a unique position as a bridge connecting the cultures and landscapes of the North and South. Comprising states such as Plateau, Benue, Kogi, Kwara, Nasarawa, FCT, Niger, and Taraba, this diverse region is characterized by its rich history, cultural vibrancy, and economic significance.
These states, with their distinct ethnic groups and contributions, exemplify Nigeria's unity in diversity. From the lush landscapes to the tapestry of traditions, the Middle Belt serves as a microcosm of the nation's strength and resilience, fostering harmony amid its dynamic blend of cultures.
Frequently Asked Questions
How many states are in Middle Belt Nigeria?
There are a total of nine states in the Middle Belt region of Nigeria. These states are Plateau, Niger, Nasarawa, Adamawa, Federal Capital Territory (FCT), Taraba, Kogi, Kwara, and Benue.
What are the states in the middle Belt Nigeria?
The states in the Middle Belt region of Nigeria include Plateau, Niger, Nasarawa, Adamawa, Federal Capital Territory (FCT), Taraba, Kogi, Kwara, and Benue.
Is Edo South South or Middle Belt?
Edo State is located in Nigeria's South-South geopolitical zone.