Civic education has become an important subject in our country since it was added to the curriculum. In this blog, we will be diving deep into the components of civic education, the definition of civic education, the reasons why we study civic education in Nigeria, and the different types of civic education.
Civic education is about understanding how our society works and how we, as citizens, fit into the bigger picture. It is like a roadmap that helps us navigate our community roles and responsibilities. Whether you are a student, a dedicated teacher, or simply curious about this subject, this is your guide to understanding the core of civic education.
We have gone the extra mile to ensure the accuracy and credibility of the content in this blog. Professional teachers, well-versed in civic education, have reviewed the content to ensure it aligns with the best educational practices. Individuals who studied civic education have also provided insights, adding depth and authenticity to the information presented here.
What is Civic Education in Nigeria?
Civic education in the Nigerian context is a subject that teaches the citizens to know about their fundamental rights, values of the society and the development of total knowledge, skills and attitudes towards the affairs of the states.
Civic Education takes on a special role of introducing people, including men, women, children, and students, to the ins and outs of the political and democratic systems. It also helps us understand the type of government we have and the reasons why things work the way they do.
20 Importance of Civic Education
Civic education plays an essential role in society by educating citizens about their roles in democracy, enhancing critical thinking, and fostering responsible participation.
This essential subject equips individuals with the knowledge and tools to actively engage in shaping our communities and participating meaningfully in the democratic process. We have highlighted 20 importance of Civic education below:
Civic Education cultivates responsible and well-informed citizens who actively engage in community affairs and contribute positively.
Civic education ensures citizens are knowledgeable about their rights and responsibilities.
This form of education encourages critical thinking for analyzing social and political issues.
It encourages active involvement in democratic processes such as voting and expressing opinions.
It fosters a sense of responsibility and self-reliance among Nigerian youths, equipping them for active participation in society.
Civic education empowers citizens, especially youths, to identify national challenges and propose viable solutions.
It helps in nurturing a strong sense of national consciousness.
Civic Education plays a pivotal role in encouraging national integration and fostering a sense of unity among diverse groups.
Through civic education, individuals are also educated about the structures of their local and national governments.
It serves as a preparation ground for the future, equipping youths with the skills and mindset necessary for leadership roles.
Civic Education promotes a culture of active citizenship, leading to positive societal change.
Informed citizens contribute to policies that promote economic growth, education, and social development.
Civic education educates citizens about environmentally sustainable practices for future generations.
This subject demystifies political jargon and processes, making politics more accessible.
Civic Education prepares the youth for leadership, ensuring capable future leaders.
It helps citizens know the country's different problems and how to solve them.
It nurtures qualities like honesty, responsibility, and empathy that contribute to a well-functioning society.
Civic Education imparts the right values and attitudes.
Through civic education, individuals can understand the impact of their decisions and how to express themselves without being violent.
It instils the right skills into citizens to help them function well in society.
5 Values of Civic Education 
Values play an essential role in civic education because they provide citizens with a moral and ethical foundation for their engagement in society and the state's affairs.
In civic education, values are the ideas, norms, moral principles and beliefs that people in a society cherish. In this section, we will identify five values of Civic education:
Selflessness: Selflessness is the cornerstone of responsible citizenship, fostering empathy, compassion, and a sense of duty toward creating a harmonious community. Civic Education nurtures this value by teaching individuals to consider the needs of others and actively engage in activities that promote the betterment of society as a whole.
Justice: Justice lies at the heart of a just and equitable society. Civic Education instills the value of justice by educating individuals about the importance of fairness, equal treatment, and the protection of rights for all members of society. By understanding and advocating for justice, citizens contribute to the creation of a society where every individual is treated with respect and equality.
Honesty: Honesty is a bedrock of civic integrity. Civic Education emphasizes the significance of honesty by encouraging transparency, truthfulness, and ethical conduct in all interactions. Individuals guided by honesty build trust within their communities, fostering an environment where open dialogue and cooperation thrive.
Integrity: Integrity is the ability to stick with ethical principles no matter what happens. Civic Education cultivates integrity by teaching individuals to stand by their values even in the face of challenges. This value encourages citizens to make principled decisions that contribute to the betterment of society and inspire trust in the institutions that govern it.
Discipline: Discipline is essential for personal growth and societal progress. Civic Education promotes discipline by teaching individuals the importance of self-control, responsibility, and adhering to ethical standards. Discipline empowers citizens to make informed choices, fulfill their responsibilities, and contribute positively to the communities they are a part of.
5 Importance of Values in Civic Education
Values are a big part of civic education because they shape how people think and act. Here are five reasons why values are important in civic education:
Making Good Choices: Values help people make good choices by showing them what is right and wrong. Civic education teaches values like honesty, discipline, and selflessness, which are important for being a responsible citizen.
Respecting Differences: Being accepting and respectful are values that help people understand and get along with others who are different from them. It teaches these values so that people can appreciate and accept people from different backgrounds and cultures.
Doing Good for Others: Selflessness and helping others, which are some of the values mentioned above, encourage people to contribute to their communities, and civic education teaches these values.
Taking Part in Society: Also, values like being responsible and caring for your country motivate people to be active citizens. Civic education helps us to understand these values so that people can participate in making decisions, obey laws, and work to make their country better.
Thinking for Yourself: Values like integrity and justice foster people to think for themselves. Civic education teaches these values so that people can think critically, understand important issues, and make good decisions based on what they believe is right.
Components of Civic Education
The components of civic education are integral to nurturing informed and responsible citizens who actively engage in shaping their societies. They are the essential building blocks that collectively form this subject.
These components encompass human rights, civic duties, democracy, culture, governmental responsibilities, and more.
1. Human Rights
Human rights are vital components of Civic Education, carrying significant importance because it educates citizens on the privileges they are entitled to enjoy. These rights are safeguarded by the law and hold value in ensuring a society that is both equitable and free. Some of these rights are:
Right to Life: Every person's life is valuable and protected by the law.
Right to Dignity of Human Person: People should be treated respectfully and not inhumanely.
Right to Personal Liberty: No one can be arrested or detained without a valid reason and proper legal procedure.
Right to Fair Hearing: Everyone has the right to a fair trial and the opportunity to defend themselves in court.
Right to Private and Family Life: People's privacy, home, and family matters are protected from interference.
Freedom of Thought and Religion: People can freely think, believe, and practice their chosen religion.
Freedom of Expression and the Press: Citizens can freely express their opinions, share ideas, and access information.
Right to Peaceful Assembly and Association: People can come together in groups and peacefully protest or form associations.
Right to Freedom of Movement: Citizens can move around the country without unnecessary restrictions.
Right to Education: Every child has the right to basic education, and the government is responsible for providing it.
Remember, while exercising your rights, it's equally important to consider others' feelings and rights. This balance between individual rights and the well-being of others is a vital aspect of responsible citizenship.
2. Civic Duties
Civic duties are the fundamental responsibilities of citizens to their community to contribute to its well-being. They are integral to civic education as they emphasise citizens' active contribution to the well-being of their community and society. Here are the different civic duties of a Nigerian:
Voting: Voting is a civic duty to choose leaders who will guide the country.
Timely Tax Payment: Promptly paying taxes supports the infrastructure and services that benefit the community.
Community Betterment: Engaging in positive actions, such as refraining from littering and extending help to those in need, significantly contributes to the overall improvement of the community.
Respect for Laws: Following laws and regulations ensures a harmonious and safe environment for all community members.
Environmental Responsibility: Practicing sustainable habits and engaging in keeping the environment clean. For example, disposing of waste properly, cleaning surroundings, and supporting environmental sustainability.
Promoting Inclusivity: Treating every individual with respect, regardless of background, promotes unity and inclusivity within the community
By participating in these duties, Nigerians contribute to the betterment of society, the preservation of democratic values, and the collective progress of their nation.
3. Democracy
Nigeria is a democratic nation, and as such, democracy is a core component in Civic Education. It encompasses the principles of citizen participation, freedom of expression, and equal representation.
Civic education is vital in helping individuals understand the "why" behind democracy. It clarifies the foundations of democratic systems and underlines the importance of voting as a means of active citizen engagement.
By imparting these insights, civic education cultivates a deeper understanding of democracy's essence and encourages individuals to actively contribute to a just and fair society through informed participation.
4. Our Culture
Nigeria is a culturally diverse country with over 250 ethnic groups, making exploring culture a significant aspect of civic education. This learning process equips citizens with the tools to coexist harmoniously and resolve conflicts positively.
Promoting Conflict Resolution and Cooperation: Culture teaches you ways to address disagreements peacefully. It encourages open communication and understanding, helping you find solutions that benefit everyone. We learn to work together and find common ground through cultural practices, fostering unity and progress.
Fostering Peaceful Coexistence: Cultural values emphasise respect, tolerance, and empathy. These traits are essential for living peacefully with others. Our traditions teach you to value diversity and appreciate different perspectives, allowing you to coexist without unnecessary friction.
5. Tolerance Education
In a country with a population of over 180 million people, the diversity is vast. This is why tolerance education has become incredibly important. Tolerance education is an important component of civic education that educates citizens to respect different viewpoints and fight against unfair judgment.
Tolerance education helps you understand that people can have different opinions, and that's okay. It teaches citizens to listen to others and learn from their ideas, even if you don't agree. This helps you work together better.
Tolerance education also shows individuals that judging or treating someone badly because they are different is not right..
6. Constituted Authority
Comprehending the concept of constituted authority is a fundamental pillar of Civic Education. This knowledge sheds light on the roles and responsibilities of government officials, law enforcement, and other figures who hold positions of authority within society.
It nurtures respect for authority and underscores the crucial role of accountability in maintaining a just and equitable society.
7. Social Partnerships Development
The importance of social partnerships goes beyond achieving specific goals, they help to fortify communities by enhancing the sense of interconnectedness and shared purpose.
When individuals collaborate to address challenges, it nurtures a deeper sense of unity and mutual support, resulting in communities that are more resilient and adept at collectively addressing issues.
8. Social Awareness
Social awareness is a crucial component of Civic Education, as it empowers individuals with the knowledge to make informed choices, contribute responsibly to society, and address pressing issues such as drugs, drug abuse, and cultism.
This comprehensive component aims to educate individuals about these pressing matters and equip them with the necessary knowledge to make informed decisions and promote responsible behaviour.
Types of Civic Education
Civic education encompasses a range of methods, each tailored to different aspects of citizenship and community involvement. These types aim to educate and empower individuals in distinctive ways:
Service Learning (or Single-Issue Politics): This way of teaching is about getting involved and helping in the community. By doing volunteer work and addressing specific problems, people learn to take responsibility for making things better. This shows how even one person can create big changes from the ground up. Topics covered under this type of Civic education include orderliness, values, drug abuse, traffic regulations, etc.
Democracy and Student Rights: Another type of civic education involves providing students with a comprehensive understanding of different forms of government and their implications for citizens' rights and responsibilities. By learning about how governments work, students understand how it affects their freedoms. This knowledge helps them make smart choices and get involved in the future of their country. Topics covered under this type of Civic education include Representative democracy, human rights, rule of law, etc.
Active Learning and Citizenship (or Deliberative Democracy Education): This method focuses on honing critical thinking and public communication skills. Through active engagement in public discourse, students learn to evaluate information critically, articulate their viewpoints effectively, and participate thoughtfully in conversations that matter. This approach equips them with the tools to navigate complex societal issues, fostering a generation of informed and engaged citizens. Topics covered under this type of Civic education include dangers of political apathy, capitalist democracy, public service, etc.
These types of civic education serve as pillars of a well-rounded educational framework, equipping individuals with the knowledge, skills, and perspectives necessary to actively participate in the democratic process, contribute to their communities, and shape the future of their nation.
Advantages and Disadvantages of Citizenship Education
Citizenship education offers both advantages and disadvantages that showcase how it influences individuals and society at large. Here, we outline five key advantages of civic education:
Strengthening Civic Awareness: Civic education helps Nigerians understand their rights, responsibilities, and roles as citizens. This empowers people to engage in positive actions, like voting, participating in community projects, and advocating for change.
Building Responsible Citizens: By teaching about the importance of obeying laws, respecting others, and contributing to society, civic education encourages the development of responsible and ethical citizens.
Informed Citizenship: Civic education equips individuals with knowledge about their rights, responsibilities, and the workings of their government. This empowers citizens to make informed decisions and actively participate in the democratic process.
Active Participation: By understanding how their government operates, citizens are more likely to engage in activities such as voting, attending community meetings, and advocating for issues they care about.
Enhancing Democracy: Informed citizens make better decisions during elections, leading to better leaders. Civic education supports a more robust democratic system by promoting active and knowledgeable participation.
We have highlighted above the advantages of Civic education in Nigeria. However, it is also important to acknowledge that civic education has disadvantages. These disadvantages do not lie in the subject itself but the challenges associated with teaching this subject. These challenges influence how civic education is delivered and received in the Nigerian context. Here are 5 disadvantages of Civic education:
Shortage of Qualified Teachers: More well-trained teachers in civic education might need to be, leading to gaps in knowledge and teaching quality.
Lack of Teaching Resources: Insufficient availability of necessary materials like textbooks and computers can hinder interactive and effective learning experiences.
Inadequate Learning Materials: There is inadequate textbooks and resources on the subject, making it difficult to teach and for students to learn.
Limited Infrastructure: Shortage of desks, classrooms, and other basic facilities can make the learning environment less conducive.
Not Enough Teaching Time: Civic education might need more time in the curriculum due to other subjects, which can impact the depth of learning.
Low Literacy Levels: Some students might need help with reading and comprehension, affecting their ability to understand and engage with civic education content.
Addressing these challenges is crucial to ensure that students receive a well-rounded and effective civic education that prepares them for active and informed participation in society.
10 Reasons Why We Study Civic Education
Studying civic education is crucial for the development of informed and responsible student in a democratic society. Here are 10 reasons why studying civic education is important:
Civic education promotes active participation and contributes to society.
It also provides essential understanding of political processes and citizens' rights.
It instills the importance of democratic values and safeguards them.
Encourages voting, community service, and advocacy for a thriving democracy.
Civic education develops skills to analyze information and make informed choices.
It promotes understanding and tolerance among diverse perspectives in society.
Equips individuals with practical knowledge about government and public institutions.
It gives citizens the tools to advocate for their rights and initiate positive change.
It guides individuals to make morally sound choices for society's well-being.
Civic education creates awareness and resistance against threats to democratic principles.
Importance of Civic Education to National Development
Civic Education plays a crucial role in driving national development by fostering active citizenship and promoting democratic values. Here are some of the other importance:
Civic education teaches people how to cooperate and collaborate, promoting unity despite differences.
It emphasizes the importance of obeying laws and contributing to a society that operates with order.
Provides knowledge about government policies, enabling citizens to understand their nation's actions for development.
It cultivates qualities like honesty, respect, tolerance, and love for the country, fostering responsible behavior.
Civic education empowers individuals to actively contribute to their nation's development as informed and engaged citizens.
It guides individuals on how to make their society better and safer for everyone's well-being.
It explains why taxes are necessary in supporting public services and infrastructure development.
Encourages citizens to question and understand the government's actions, promoting responsibility and transparency.
Terminologies of Civic Education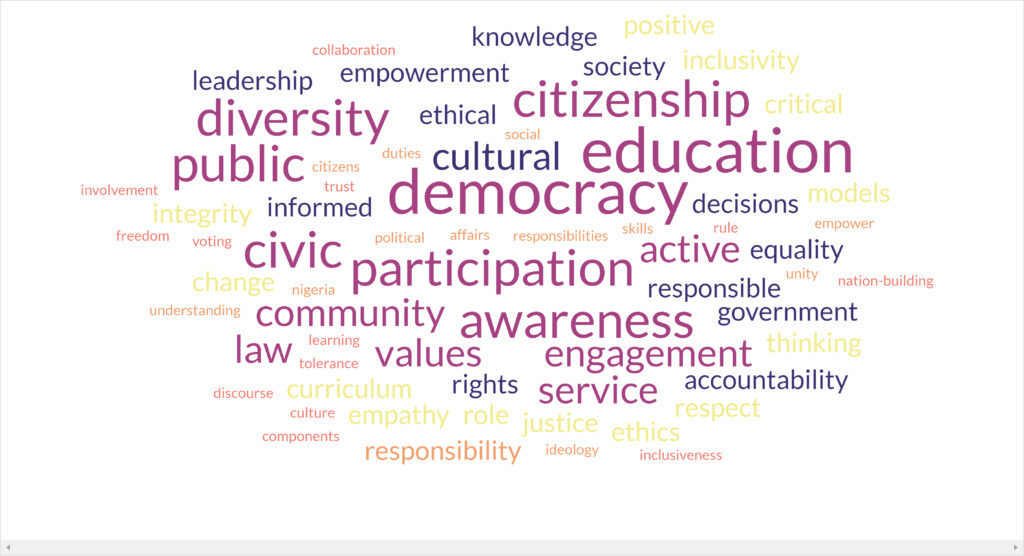 Civic education involves teaching individuals about their rights, responsibilities, and roles as citizens within a society. Here are some critical terminologies in civic education, along with their meanings:
Civic Education: The process of educating individuals about their roles, rights, and responsibilities as citizens in a democratic society to promote active and informed participation in civic affairs.
Citizenship: The legal status of being a member of a particular country, entailing rights (such as the right to vote) and responsibilities (such as obeying laws and paying taxes).
Rights: Entitlements that citizens possess, usually protected by law, which allow individuals to enjoy freedoms, protections, and opportunities in society. Examples include freedom of speech, religion, and the right to a fair trial.
Responsibilities: Duties and obligations that citizens have towards their society and fellow citizens. These often include obeying laws, voting, and paying taxes.
Democracy: is a system of government in which power is vested in the hands of the people, either directly or through elected representatives. It typically emphasises citizen participation, individual rights, and the rule of law.
Rule of Law: The principle that all individuals and institutions, including government, are subject to and accountable under the law. No one is above the law.
Civil Society: The collective body of individuals and organizations outside government and the business sector, working together to address societal issues, promote common interests, and ensure accountability.
Participation: Engaging actively and meaningfully in civic and political activities, such as voting, attending public meetings, and joining community organisations
Public Policy: The decisions and actions governments take to address various societal issues, often guided by democratic principles, research, and public input.
Civic Engagement: The process of individuals getting involved in their communities, taking an interest in public affairs, and actively contributing to positive change.
Suffrage: The right to vote in political elections. Universal suffrage refers to the principle that all eligible citizens have the right to vote.
Representation: The act of elected officials speaking and acting on behalf of the citizens who voted for them, reflecting their concerns and interests in the decision-making process.
Human Rights: Fundamental rights and freedoms inherent to all individuals, regardless of nationality, ethnicity, religion, or other factors. International agreements and treaties often protect human rights.
Political Ideology: A set of beliefs and values that shape an individual's views on politics, government, and societal issues. Examples include liberalism, conservatism, socialism, and libertarianism.
Top 5 WAEC Civic Education Questions and Answers Every Student Must Know
This is a list of WAEC Civic education questions and answers for students to practice with:
Define human trafficking

 Human trafficking is selling and transporting human beings for wrong purposes, either for money, slavery or prostitution. 

What is orderliness?

Orderliness can be described as the act of doing things in a peaceful and organized manner. It involves arranging things in a neat and systematic way.

List three features of the 1999 Constitution of Nigeria

The Constitution is written in one document
It is a federal constitution
It identifies Nigeria and Nigerians

List 5 Ways People Living With HIV/AIDS (PLWHA) are discriminated against.

Discrimination in the use of public toilets
Loss of employment
Excluded by friends and family members/other groups
Non-recognition of people living with HIV/AIDS in the society
Denial of opportunities in the society

List 5 Reasons why discrimination against People Living With HIV/AIDS (PLWHA) should be discouraged.
Discrimination against People Living With HIV/AIDS (PLWHA) should be discouraged for the following reasons:
Inclusive Participation: Discouraging discrimination is crucial because individuals with HIV/AIDS can carry out activities at home and in their workplaces. By creating an inclusive environment, society ensures that their skills and contributions are not overlooked, fostering a diverse and productive workforce.
Preserving Talent: Discrimination against PLWHA could lead to the loss of skilled technocrats and professionals essential for the nation's development. Encouraging their involvement and contributions helps harness their expertise for the betterment of society.
Empathy and Understanding: Treating people with HIV/AIDS unfairly goes against the principle of empathy and understanding. Anyone, regardless of their background, can find themselves in this condition. Dismissing or mistreating them undermines the compassion and support that everyone deserves during challenging times.
Mental Health and Suicide Prevention: Discrimination can contribute to feelings of isolation and despair among PLWHA, potentially leading to higher rates of suicide attempts. Society can play a role in curbing such adverse outcomes by promoting acceptance and offering a supportive environment.
Retaining Local Talent and Preventing Brain Drain: Creating an environment that supports individuals with HIV/AIDS helps counter the brain drain phenomenon. By providing opportunities and recognition, society can encourage skilled individuals to remain in their home country rather than seeking opportunities abroad.
6. List 10 Reasons why accountability should be a watchword of public servants in Nigeria.
Upholding accountability dissuades individuals with questionable ethics from assuming critical public offices.
Embracing accountability paves the way for seamless career growth and advancement within the public service.
Prioritising accountability cultivates a culture of positivity and diligence, discouraging negative behaviours.
Accountable public servants become commendable role models, setting examples of integrity and responsibility.
Accountability is the cornerstone of effective governance, guiding decisions that benefit citizens and the nation.
A commitment to accountability fuels rapid economic development by curbing corruption and maximising resources.
Professional discipline is instilled within the public service through accountability and upholding high standards.
Accountability enhances the productivity of public servants, ensuring tasks are completed efficiently and effectively.
Wastage of valuable resources is minimised due to accountability, preserving assets for public benefit.
Upholding accountability guards against the misuse of public office for personal gain, maintaining public trust.
Dimensions of Civic Education
Political dimension: This dimension of civic education involves learning how our government functions and the roles of our leaders. Understanding that governing is not just for a few people but for everyone, which can help us become good leaders in the future.
Legal dimension: The legal dimension entails understanding the laws of our country and how they work. Practicing and operating within the law in everything we do.
Social dimension: Under the social aspect, we learn how to interact and get along with other people in our communities. Developing skills to relate to individuals from different ethnic groups and who practice different religions than us.
Economic dimension: The economic dimension teaches us to handle money wisely and use it in ways that benefit our country and understanding different ways of doing business.
Cultural dimension: Finally the cultural dimension involves learning about our own culture, including food, clothing styles, and religions. Understanding the different types of leaders we have and how to respect and obey them.
Frequently Asked Questions
What is Civic Education, and why is it important?
Civic education is a subject that teaches students about participation in society and empowers them to engage actively and make informed decisions, fostering responsible citizenship. It's essential because it equips individuals with the knowledge and skills to contribute positively to their communities and the democratic process.
What is the WAEC definition of civic education in Nigeria?
There are different definitions of civic educations but the WAEC definition of civic education is – Civic education is a form of education given to citizens to instil desirable values, knowledge, and skills to enable active participation in society.