East Africans have access to loans without the need for traditional banks or financial institutions through loan apps. For individuals with no collateral, these apps offer a lifeline in times of financial difficulty. However, with so many loan apps to choose from, it can be overwhelming to select the right one.
To help make this decision easier, our team of fintech experts tested and selected the top 10 loan apps in East Africa. This blog post will provide an in-depth analysis of each loan app, including its requirements, pros, and cons. We will also compare the loan apps to help you decide which is best suited for your needs.
Whether you need a personal or business loan, this blog post will give you a comprehensive overview of the best loan apps in East Africa. By the end of this article, you will have a better understanding of these loan apps and be able to choose the one that best meets your requirements.
1. Senti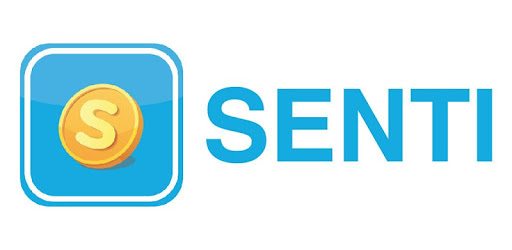 Senti is a mobile app for microcredit that makes it simple for Kenyans to access loans at any time and from any location. Customers can apply for and repay loans directly from their mobile devices with SENTI. The headquarters of the loan app is in Nairobi, Kenya.
Before you apply, here are the following requirements:
You must have a credit history that meets the predetermined requirements
Be an active Safaricom subscriber for at least six months
Borrow up to the amount indicated on the application to be eligible for a Senti loan.
How to Apply for a Senti loan
The steps below will guide you on how you apply for a Senti loan:
Select the type of loan you need
Apply for the loan
Wait for a few seconds to get verified
Get the loan into the account of your choice
All loans are processed within a day, and applicants should receive a response within 24 hours or less.
Pros
Simple registration process
You can quickly pay with your phone.
No unexpected fees, only fees that must be applied to the loan.
A helpful financial partner when you need one.
Your credit limit is increased by early repayment.
Cons
You cannot borrow above your credit limit.
2. IPesa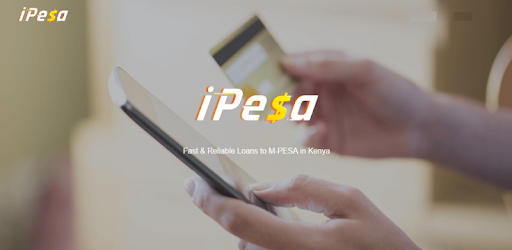 The IPesa app provides personal loans to individuals in Kenya. The app is managed by X Credit and has over 1 million downloads on the Google play store. The app allows users to apply for loans ranging from Ksh 500 to Ksh 50,000.
Before you apply, here are the following requirements:
You must be at least 18 years old
Possess a valid National ID
Registered Safaricom phone number
How to Apply for a Loan on IPesa
After installation, open the app, enter your phone number, and click continue.
Enter the SMS-based verification code.
Create the PIN of your choice, then register
Pros
It automatically saves your most frequent pay bills
It includes an offline mode
It makes transactions very easy to handle
Cons
The font and icon on this app are small
The app is a little slow
3. K-Finance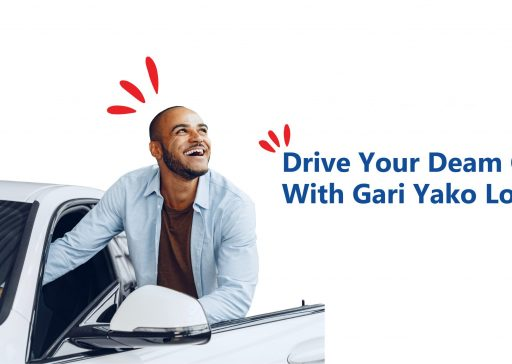 K-Finance Limited is a privately owned microfinance institution in Tanzania. The institution provides financial services to both employed individuals and entrepreneurs.
As a microfinance institution, K-Finance Limited provides loans to individuals and small businesses in need of financing. It is primarily aimed at low-wage earners, primarily those who work in the unorganized sector of the economy and are unaffiliated with any financial institutions.
Due to perceived risks, commercial banks typically do not offer loans to businesses in this sector. K-Finance, therefore, helps those with low incomes and low levels of education (illiterates). The institution also offers savings accounts to help clients manage their money and plan for the future.
How to Apply for a K-finance Loan
Install the mobile app after downloading it, then finish the registration process.
After selecting the loan, you want to apply for, fill in the required information and submit your application.
Finally, watch for your loan application to be verified and approved. Once the platform has approved your loan request, electronically sign the loan agreement to get the money immediately.
Pros
They offer personal salaried loans, Ada loans, executive loans, Gari yako loans etc.
You have the chance to get your loan within 48 hours.
Cons
It has too many processes required to be eligible for a loan.
4. Imarika Credit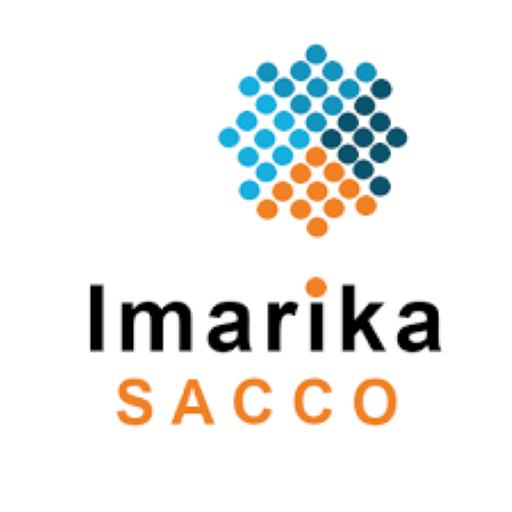 Imarika Credit is a microfinance institution that provides financial services to micro-entrepreneurs, small and medium-sized enterprises, and low-income individuals in Kenya.
Imarika Credit offers various financial products and services, including group loans, individual loans, and asset financing. Group loans are given to groups of between 5 and 15 members, while individual loans are provided to individual borrowers. To grow their businesses, asset financing is offered to clients who need to purchase equipment such as motorbikes, sewing machines, or other equipment.
The loan application does not need any paperwork, no registration fees, and your credit history is not considered. Once the loan has been approved, the money is transferred into your M-Pesa account and repaid using the same method.
The app offers up to $50,000 in loans. Due to their encryption methods, it is secure and free from fraudsters. The service is quick and simple to access because it is offered around the clock.
Imarika Credit is registered and licensed by the Central Bank of Kenya under the Microfinance Act, 2006.
How to Apply for a loan on Imarika Credit
Download the app from the Google Play Store and install it first.
For a quick assessment, create a profile with your information.
You can apply for any loan you want.
The loan will then be deposited into the account of your choosing.
Pros
All you require is a mobile device.
Imarika Loans disregard your credit history.
Services are available throughout East Africa and are available around the clock.
Loans are processed as quickly as possible without any salary-based restrictions.
Cons
You need to have a Mpesa account to receive a loan.
 5. Fuzu-Branch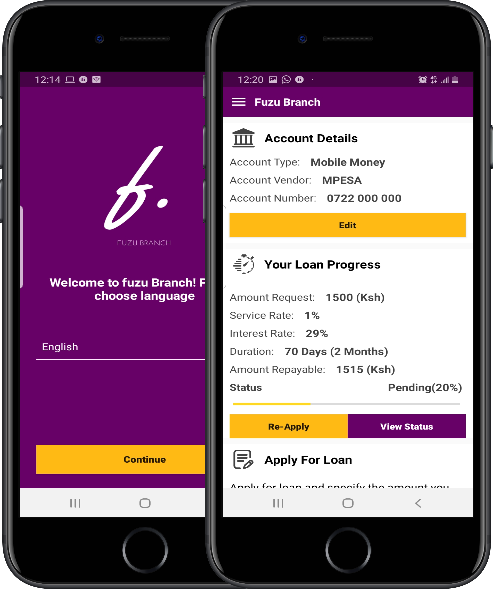 Fuzu Branch is a lending platform that offers loan services to individuals and small businesses in East Africa through its mobile application.
It has a solid connection to the Fair-Branch app and is strictly available only to MPesa users. The app is operational in Kenya, Tanzania, and Uganda.
The loan has an interest rate of between 15 and 29% with a loan offer that ranges from Tsh 25,000 to Tsh 750,000. Repayment periods can range from 4 to 120 days, so customers can easily customize their repayment plan according to their own financial situation.
Fuzu Branch offers unsecured personal loans ranging from KES 500 to KES 50,000. Fuzu Branch checks the creditworthiness of its customers, enabling them to offer tailored loan amounts and interest rates that best meet the individual's needs.
How to Apply for a FUZU-Branch Loan
Get the Fuzu branch loan on Google Play Store.
Set up an account.
Apply immediately.
Pick a repayment schedule that works for you.
Receive your loan in your bank, mobile wallet, or PayPal account.
Pros
You'll have access to larger loans, lower fees, and flexible payment terms as you repay.
Fast approval and deposit of loans into your account.
No paperwork, supporting materials, or office visits are required.
They don't need sureties, either
Cons
They are not available to every East African.
6. Tala Loan App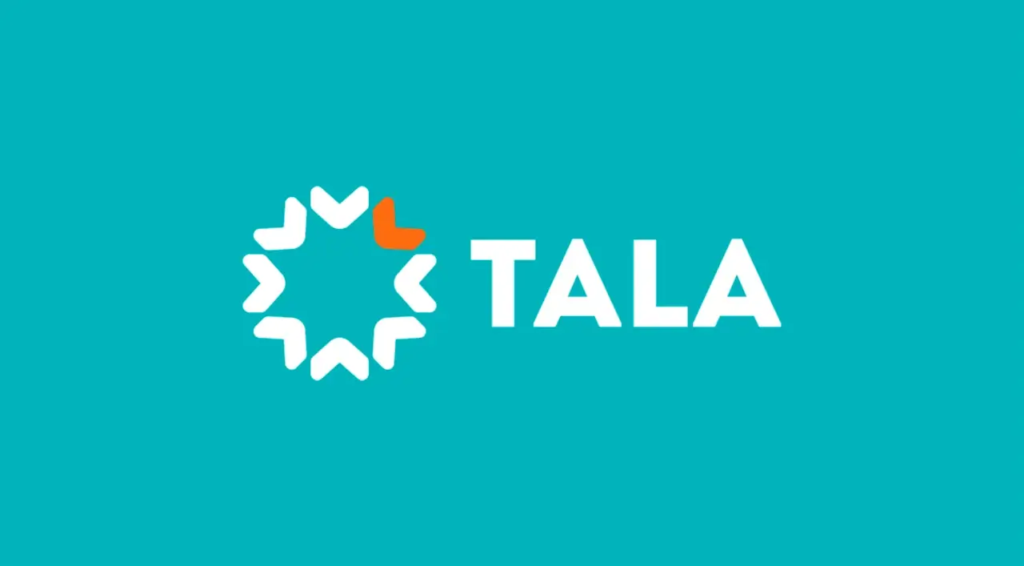 Tala is a mobile loan app that provides short-term loans to individuals based on their mobile phone data. It is a revolutionary mobile loan app that is changing how people access credit in Kenya, Tanzania, and the Philippines.
Kenyans have grown to trust the rapid borrowing app Tala. They offer up to KES 50,000 and allow you time to improve your credit score so you may get the highest loan amount possible. Tala is authorized and controlled by CBK, with interest rates starting at 0.3% daily.
The app does not charge hidden fees or penalties, and the interest rates are clearly stated upfront.
How to Apply for Loan on Tala
To apply for a Tala loan, you must first download the app.
Download the app here.
After downloading the app, fill out a short application on the Tala app. The application should take at most 15-20 minutes.
Wait for loan approval
Tala loans has more than 1 million installs and is ranked among the top loan apps in Africa.
Pros
Your contacts and other information are always private and protected. Tala is registered with the ODPC as a data controller.
Convenient and affordable interest as low as 0.3 per day%
Cons
The repayment period is a bit short, between 21 and 30 days.
Takeaway
Applying for a loan in East Africa just got easier with our list of the best loan apps in East Africa. It is important to read through the terms for each loan to know which one suit you perfectly.