The burial of Obi Cubana's mother captured the attention of Nigerians and Africa at large, making it the most talked-about event in 2021. The burial has become a household name, with many using it as a standard for extravagant burial.
Obinna Iyiegbu, well known as Obi Cubana, is a popular Nigerian businessman who made headlines in July 2021 for the extravagant burial ceremony of his mother, Ezinne Iyiegbu, in Oba, a small town in Anambra State, Nigeria.
The burial featured 400 cows and money rain from the high and mighty society. Since then, no other ceremony organised by a Nigerian in Nigeria has been able to match the extravagance and scale of Obi Cubana's mother's burial.
Even notable personalities, such as actress Funke Akindele, Iyabo Ojo, Senator Dino Melaye, music producer Don Jazzy, popular musician Tiwa Savage, and many more, have not been able to match the buzz generated by Obi Cubana's mother's burial.
In this blog post, we will look at the burial ceremony of Obi Cubana's mum in detail, the personalities that attended, the events that took place and all you need to know about the burial.
About The Burial
In November 2020, Ezinne Uche Iyiegbu, the mother of Obi Cubana, passed away at the age of 75.
The Billionaire businessman planned his mother's burial for about seven months before he finally fixed the date intending to make the burial one of the most celebrated burial ceremonies in the world.
With its nine villages, the town of Oba is now remembered for the burial of Obi Cubana's mother, a stark contrast to its ordinarily quiet nature. Before the burial took place, there were many festivities and various side attractions that were nothing short of a fanfare and a carnival. Cubana's associates, including friends, colleagues, business partners, and celebrities, went above and beyond to organize a spectacular event.
Obi Cubana's intention was to organize the mother of all burials, one that would be so extravagant that even the living would envy the dead and wish to die. The burial was so lavish that it became a trending topic on Google and different social media platforms.
How Much was Spent?
The funeral ceremony was a grandiose and extravagant event, with sources estimating that a staggering sum of over N3 billion (approximately USD 6.5 million) was spent on the burial ceremony.
Asides from the amount spent on the setting up of the ceremony, during the ceremony, our reports got that about $2 million was showered at the event because of the several high-profile individuals from the entertainment, political, and business spheres that were in attendance.
1. Over 400 Cows
The event's hallmark was the number of cows and other animals, like goats, rams etc., that the business tycoon was given to celebrate the mother's burial. The businessman shared over 400 cows, 70 goats and 20 rams; notably, Cubana Chief Priest generously donated 46 cows; Oil and gas tycoon Joseph Okafor, widely known as Jowi Zaza, also contributed to the "Cow Gift" phenomenon by gifting ten cows. There were other celebrities and notable personalities that donated cows to the events.
2. Diamond Necklace
Obi Cubana commissioned the skilled celebrity jeweller, Obisgallery, to create a Diamond necklace worth $100,000, which bears the likeness of his mother to preserve her memory for eternity. He explained that he needed to replicate his mothers' face with a gemstone without minding the cost.
3. Expensive Casket
Obi Cubana spent over 30 million Naira to get a beautiful and well-decorated cassette for his late mother's body. In addition to the costly and extravagant wines, whiskey, and various drinks on the menu to entertain guests at the funeral, the burial also featured a lot of expensive side attractions.
4. Obi Cubana's Outfit
Obi arrived at the venue in a grand style as he wore 24-karat gold sunglasses made by the House of Lunette, which cost him quite a fortune. The outfit of Obi Cubana's wife, Ebele Iyiegbu, was estimated to be worth millions of naira
Notable personalities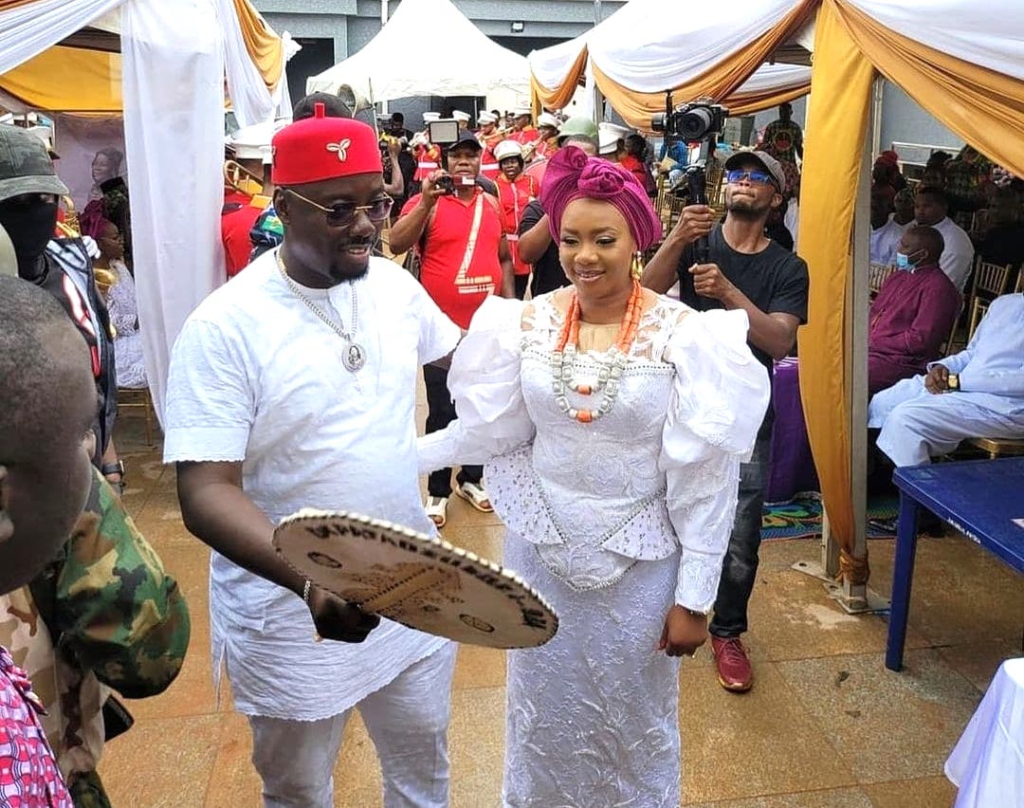 At the ceremony, Obi Cubana's loved ones, including friends, well-wishers, staff, business partners, colleagues, and family members, all went above and beyond in their contributions. The event was graced by a notable roster of celebrities and socialites who came to pay their respects and give the mother-of-five a deserving farewell ceremony.
These notable personalities include:
Zubby – Nigerian Actor
Kcee – Nigerian musician
E-Money – Nigerian entrepreneur
Phyno – Nigerian musician
Kanayo O. Kanayo – Nigerian actor
Alex Ekubo – Nigerian actor
Emeka Okonkwo (E-Money) – Nigerian entrepreneur
Jowi Zazaa – Nigerian businessman
Patoranking – Nigerian musician
Cubana Chief Priest – Nigerian businessman and show promoter
Ubi Franklin – Nigerian entrepreneur
Williams Uchemba – Nigerian actor
Charles Okpaleke – Nigerian film producer
Zubby Michael – Nigerian actor
Ebele Okaro – Nigerian actress
Chief Ikpeazu – Traditional ruler
Obi Iyiegbu (Obi Cubana's father) – Nigerian businessman
Uche Ogbodo – Nigerian actress
Chinedu Ikedieze – Nigerian actor
Osita Iheme – Nigerian actor
There were different billionaires who splashed and sprayed money at each other at the event while showcasing their financial worth.
Known Donations For Obi Cubana's mum's burial
Some notable donations were made for the burial. The list below gives an estimated amount of money that was donated:
Cubana Group – N300 million
Jowi Zaza – N50 million
E-Money – N20 million
Obi Cubana's friends – N10 million
Uyi Ogbebor – N10 million
Anonymous – N10 million
Hon. Pascal O. – N9 million
Chief Emmanuel Iwuanyanwu – N10 million
Alex Ikwechegh – N1 million
Celebrity barman – N1 million
In addition to these donations, numerous other individuals and organizations reportedly made significant contributions towards the burial, both in cash and in kind.
Controversies Surrounding Obi Cubana's Mum's Burial
The event sparked a lot of conversation and controversy in Nigeria as bundles of Naira were lavished and sprayed at the event. Many people question the source of Obi Cubana's wealth and criticize the extravagant display of wealth at a time when many Nigerians are struggling with poverty and economic hardship. Others, however, defended the event as a celebration of life and a demonstration of the importance of community and family in Nigerian culture.
One major controversy was from Onyeka Onwenu, a legendary musician, and actor in Nigeria. According to Onyeka Onwenu, the burial of Obi Cubana's mother was not just lavish, but also obscene and insensitive. She expressed that it conveyed the wrong message at a time when Nigeria is grappling with widespread poverty and deprivation.
Overall, the burial of Obi Cubana's mother was a highly publicized event that sparked a lot of debate and discussion about wealth, culture, and the meaning of life in Nigeria.
Watch the full ceremony below: