Nigeria, the most populous country in Africa, is home to some of the wealthiest people on the continent. The country's wealthiest individuals have amassed their wealth through hard work, innovation, and astute investments.
Topping the list of richest people in Nigeria is Aliko Dangote, whose net worth stands at an impressive $13.5 billion even though he had a massive loss of 400 million dollars last year. He is not only the richest person in Nigeria but also the wealthiest in Africa.
Abdul Samad Isyaku Rabiu, with a net worth of $7.6 billion, is also among the top 10 richest people in Africa. We also have Michael Adeniyi Agbolade Ishola Adenuga, with a net worth of $6.3 billion, who is the third-richest person in Nigeria and sixth in Africa.
Our financial researchers looked into these people, their backgrounds, businesses, sources of wealth, current net worth, how they started and many more. In this blog, we will share in details all you need to know about the wealthiest people in Africa.
Here are the top richest men in Nigeria, their wealth source and net worth.
1. Aliko Dangote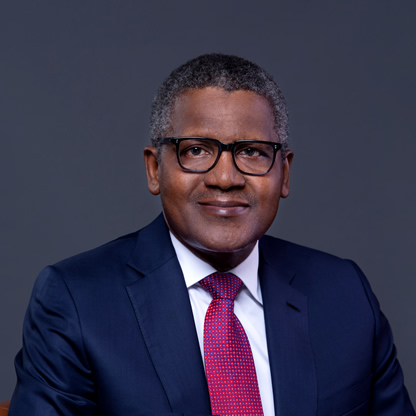 Sources of Wealth: Manufacturing, Oil and Gas
Age: 66
Net Worth: $13.5 billion
Born on April 10, 1957, in Kano state, Nigeria, Aliko Dangote is a successful businessman and entrepreneur who is now 65 years old. He founded and served as CEO of the Dangote Group and Dangote Cement, the largest conglomerate company in West Africa. Dangote studied Business Studies at Al-Azhar University in Cairo, Egypt, and completed his primary education at Sheikh Ali Kumasi Madrasa and Capital High School in Kano. He later graduated from Government College, Birnin Kudu, in 1978.
After starting his small business in 1977, trading commodities such as bagged cement, sugar, rice, and flour, Dangote eventually expanded into full-scale manufacturing. Today, his Dangote Group operates in various African countries, including Benin Republic, Zambia, Togo, and Ghana, and is the largest industrial group in Nigeria.
It consists of Dangote Cement, Dangote Flour, and Dangote Sugar Refinery, with the latter being the largest sugar refinery in Africa and the third largest in the world, producing about 800,000 tonnes of sugar annually.
Aside from his conglomerates, Dangote also engages in import and export businesses, importing goods such as fish, pasta, rice, cement, and fertilizer, while exporting cashew nuts, cotton, cocoa, ginger, and sesame seeds to various countries around the world. He invests heavily in real estate, transport, banking, oil and gas, and textiles.
As of January 2023, Dangote's net worth is estimated at approximately US$13.6 billion, according to Forbes, making him the richest man in Africa, the 30th richest person in the world, and the richest black man in the world.
Awards
Aliko Dangote has been recognized and awarded by several bodies which, include:
Dangote was awarded Nigeria's second-highest honour, the Grand Commander of the Order of the Niger (GCON)Goodluckuvk Ebele Jonathan.
Forbes 'Africa Person of the Year 2014.
Forbes "Most Powerful Man in Africa"-2013- 2018
CNBC's "Top 25 Businessmen in the World" – 2014
Time magazine '100 most influential people in the world'- April 2014
"50 Most Influential Individuals in the World" by Bloomberg Markets in October 2015
"The Guardian Man of the Year " – 2015
"2016 African Business Leader Award" by Africa-America Institute (AAI)
Dangote was cited as one of the top 100 most influential Africans by New African magazine in 2015, 2017,2018 and 2019
2. Abdul Samad Rabiu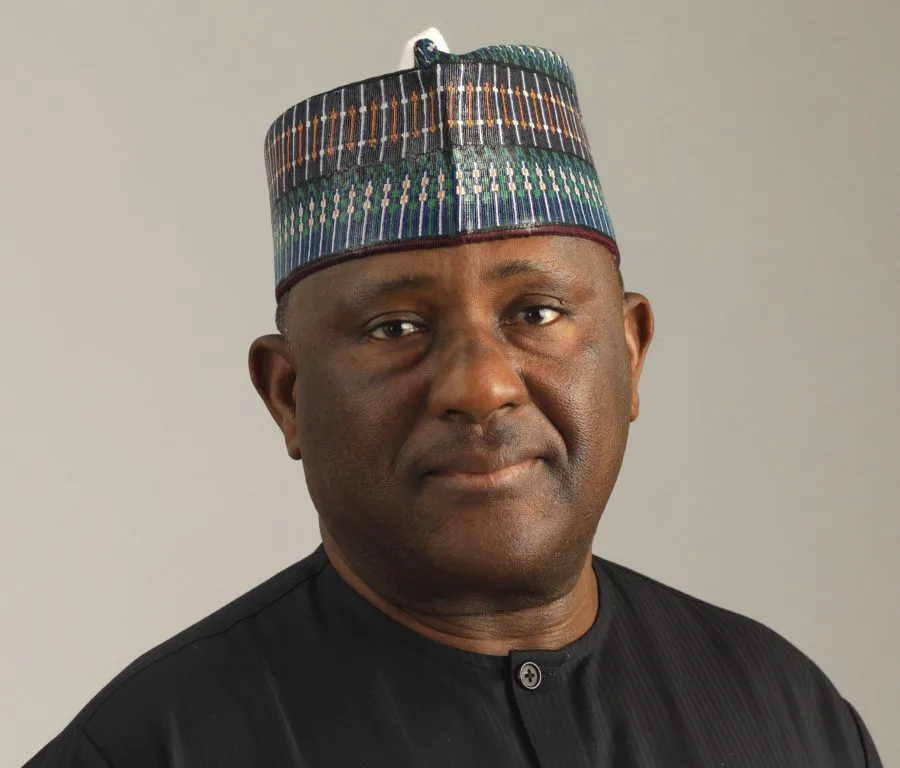 Source of wealth: Manufacturing, Agriculture and Infrastructure
Age: 63 years old
Net Worth: $7.6 billion
Abdul Samad Isyaku Rabiu is a philanthropist and billionaire businessman born on August 4, 1960, in Kano State, Nigeria, making him 62 years old. He founded the BUA Group of Companies, a Nigerian conglomerate with core manufacturing, agriculture, and infrastructure industries.
Rabiu is the second-richest man in Nigeria and a former chairman of the Nigerian Bank of Industry, with the current chairman being another prominent businessman.
Rabiu's father was also a businessman, and he inherited land from him. In 1988, Rabiu established his own business, importing iron, steel, and chemicals, becoming one of Nigeria's largest. Rabiu received his early education at the Federal Government College in Kano before travelling to the United States to pursue a degree in economics at Capital University in Columbus, Ohio.
After completing his early education at the Federal Government College in Kano, Abdulsamad Rabiu travelled to the United States to pursue a degree in economics at the Capital University in Columbus, Ohio.
From 1993 to 2000, Rabiu was chairman of the Nigerian Bank of Industry and the Tropical Continental Bank. Through the BUA Foundation and his Abdul Samad Rabiu Africa (ASR Africa) Initiative, Rabiu has significantly contributed to philanthropic and social development initiatives, particularly in healthcare, education, sports, water and sanitation, and other areas.
He owns most shares in BUA Cement, his flagship publicly traded cement business, and BUA Foods, which went public in 2022.
Rabiu was announced as the 4th richest man in Africa, with an estimated net worth of $7.6 billion.
Awards
In 2011, As part of his enormous contributions to the growth of the Nigerian economy, the Nigerian government conferred on BUA Chairman/CEO the Nigerian National Honour of Commander of the Order of the Niger (CON)
West Africa Industrialist of the year, 2016, to CEO/Chairman Abdulsamad Rabiu by CNBC, All Africa Leaders Award (AABLA), Lagos, Nigeria.
Africa Industrialist of the year, 2016, to CEO/Chairman Abdulsamad Rabiu by CNBC, All Africa Business Leaders Award (AABLA), South Africa.
Silverbird Extraordinary Business Achievement Award to CEO/Chairman Abdul Samad Rabiu by Silverbird Group
Abdul Samad Rabiu, Founder/Executive Chairman, BUA Group, bags the Business Man of the Year Award at the Vanguard Personality of the Year 2019 – 2020
Abdul Samad Rabiu has been conferred with the prestigious Nigerian National Honour of Commander of the Federal Republic (CFR) and the Nigeria Excellence Award in Public Service (NEAPS).
Abdul Samad Rabiu, Founder/Executive Chairman of BUA Group appointed Chairman of the France-Nigeria Investment Club by French President Emmanuel Macron.
In October 2022, a Nigerian national honour of Commander of the Order of the Federal Republic (CFR) was conferred on him by President Muhammadu Buhari.
3. Mike Adenuga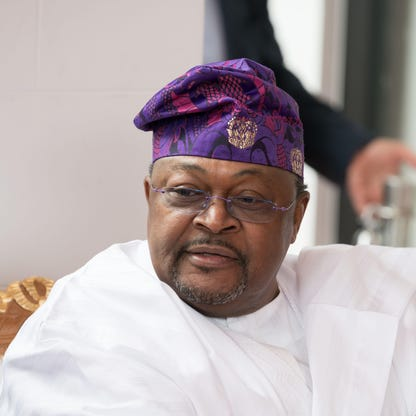 Source of wealth: Telecom and Oil production
Age: 70 years old
Net Worth: $6.3 billion
Michael Adeniyi Agbolade Ishola Adenuga is a Nigerian billionaire businessman and the third-richest person in Nigeria. He was born in Ibadan on April 29, 1953, but is a native of Ogun state. He founded Globacom, the second-largest telecom operator in Nigeria, which also operates in Ghana and Benin.
Adenuga is also a shareholder in Equitorial Trust Bank and Conoil, an oil exploration company formerly Consolidated Oil Company.
While studying for his MBA at Pace University in New York, Adenuga worked as a cab driver to support himself. At 26, he earned his first million dollars by selling lace and distributing soft drinks.
Mike Adenuga was the first Nigerian to discover oil in commercial quantities. Conoil, his only publicly traded company, operates upstream and downstream and has significant gas deposits. He currently owns around ten oil wells.
Adenuga formerly owned Devcom Merchant Bank and Equitorial Trust Bank, both bought by Sterling Bank Plc. He holds significant shares in Sterling Bank and First Bank of Nigeria.
He is one of the largest employers of labour in Nigeria, aside from the government, both directly and indirectly. Additionally, he is known for his charitable contributions.
Awards
African Entrepreneur of The Year at the first African Telecoms Awards (ATA) in August 2007
He was honoured by the Federal Republic of Nigeria with the National Award of the Officer of the Order of the Niger and later with the award of Commander of the Order of the Niger.
Adenuga was cited as one of the Top 100 most influential Africans by New African magazine in 2019.
In 2018, President Emmanuel Macron of France decorated him with the insignia of a Commander of the Legion of Honour.
4. Femi Otedola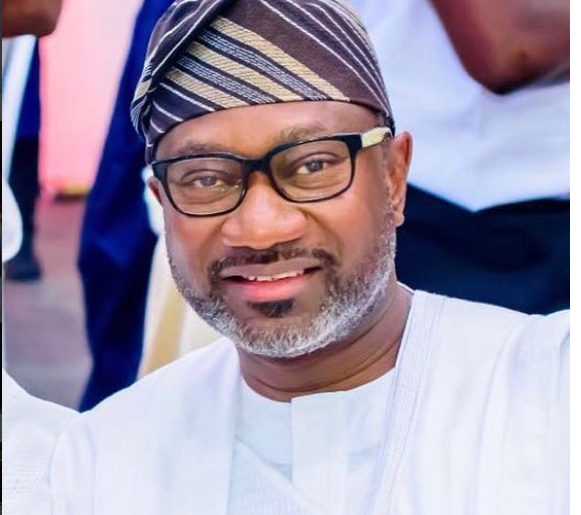 Source of wealth: Oil production and Company shares
Age 60 years old
Networth: $2.5 billion
Femi Otedola is a Nigerian businessman and philanthropist born in Lagos State on November 4, 1962, to Lady Doja and the late Michael Otedola, a former governor of Lagos State. He earned his first degree from Obafemi Awolowo University in 1985 and began working as the marketing manager for his family's printing company after graduation.
The renowned and well-liked businessman went to the University of Lagos Staff School. In 1985, Ile-Ife, Osun State's famed Obafemi Awolowo University, continued his education there and earned his first degree. After his education, he began working as a marketing manager in his family's printing company.
In 2003, he founded Zenon Petroleum and Gas Limited, a petroleum products marketing and distribution company. By investing N15 billion in downstream infrastructure in 2004, Zenon gained a significant portion of Nigeria's diesel market by 2005. In that year, Otedola's business also acquired a 28.7% stake in African Petroleum, a major petroleum marketer in Nigeria.
In December 2007, Otedola's business purchased an additional 29.3% of African Petroleum for N40 billion, giving him a controlling interest in the company (58%). He has also made several real estate transactions, including the N2.3 billion purchase of Stallion Mansion in Victoria Island, Lagos, by Zenon in February 2007.
Otedola served as the chairman of Forte Oil PLC before becoming the executive chairman of Geregu Power PLC. Forte Oil, which operates over 500 gas stations across Nigeria, was formerly a subsidiary of British Petroleum (BP) in Nigeria. It also manufactures its range of engine oils and operates oil storage facilities.
5. Arthur Eze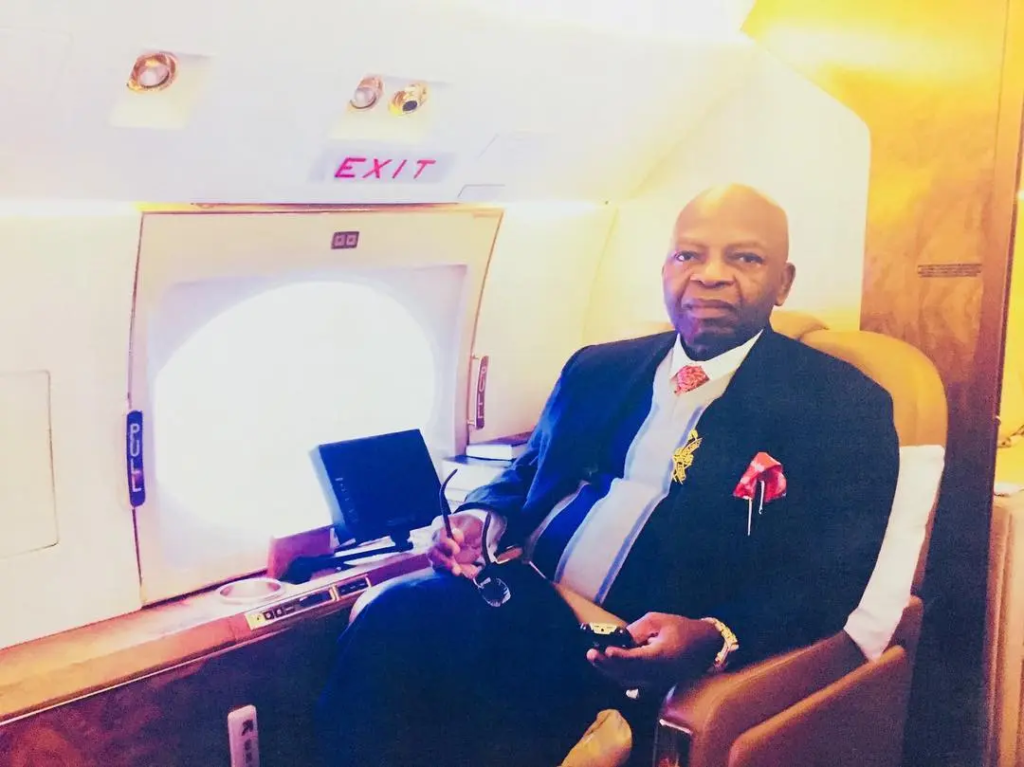 Source of wealth: Oil exploration and production
Age: 74 years old
Networth: $1.9 billion
Arthur Eze, who was born on November 27, 1948, in Ukp, Dunukofia LGA, Anambra State, completed his secondary education at St. Augustine Secondary School in Nkwere, Imo State, in 1970, and from there, he attended California State University for his mechanical and chemical engineering degree from 1974.
Arthur Eze is a wealthy businessman and a royal family member, frequently called Prince Arthur Eze. His native Ndi Igbo title is "Ozoigbondu".
Arthur Eze is the CEO of Atlas Oranto Petroleum, the largest privately held exploration and production company in Nigeria. He is also a politician, philanthropist, and oil magnate from Nigeria. As the Igbos refer to him, the eighth wealthiest man in Africa is known as the "ozoigbondu" of Igboland.
Oranto is Nigeria's largest privately held, Africa-focused exploration and production firm and the continent's leading holder of oil exploration blocks. The company has 22 oil and gas exploration licenses in 12 different African countries and oil and gas assets in the Gambia, Equatorial Guinea, Nigeria, and Liberia.
While the company's corporate offices are based in Abuja, the federal capital of Nigeria, the company's technical base is located in Lagos. The Eze family owns the company's shares, and every stakeholder participates in its management. According to our research, Arthur's networth is currently about 1.9 Billion dollars.
Awards and recognition
'Patron of Ndigbo Lagos' and adopted into the Ndigbo Lagos Patron Hall of Fame on his 70th birthday.
The Governor of Ebonyi State, Dr Umahi, named a major road after Arthur Eze and appointed him as Ebonyi State University's Chancellor.
Former President Goodluck Jonathan conferred him with the distinguished award of the 'Officer of the Federal Republic (OFR)' in recognition of his contribution towards the development of the nation's economy and humanitarian gesture to the Nigerian people at an event in Abuja on the 14th of November 2011.
Enugu City Centre Rotary District 9142 named him "Outstanding Citizen of the World" in 2015
The Zik Prize in leadership awards honoured him with the 'Zik Leadership Awards in the business category in 2018.
'Africa Value Award' by Value Reorientation and Developmental Initiative Africa (VARDIAFRICA) in 2018.
6. Orji Uzor Kalu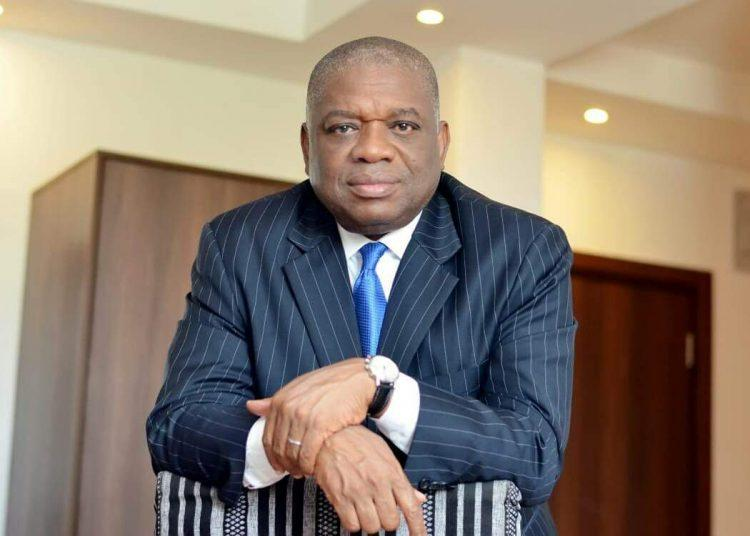 Source of wealth: Oil trading, finance, shipping and more
Age: 62 years
Networth: $1.3 billion
Orji Uzor Kalu, a politician and businessman from Nigeria, was born on April 21, 1960. He is the senator for the Abia North senatorial district. He presided over Abia State as governor from May 29, 1999, to May 29, 2007. Kalu is the chairman of SLOK Holding and Nigeria's Daily Sun and New Telegraph.
After being dismissed from a Nigerian institution at 19 for organizing a string of student disturbances, he began his career in business. He began trading goods, including rice, sugar, and palm oil, after borrowing $35 from his mother. By the age of 20, he had successfully diversified into the production of furniture and transportation.
He studied at Government College Umuahia and Christ the King School Aba. He entered the University of Maiduguri to study political science after attending Barewa College in Zaria.
He was previously a governor of Abia state in Nigeria's southeast. Forbes' estimate of his net worth has dropped since last year due to weakness in the oil business and a drop in real estate prices.
Orji Uzor Kalu's company, Slok Holding, is a West African company with ties to industry, finance, shipping, oil trading, and the media. He has a net worth of 1.3 billion dollars.
7. Cletus Ibeto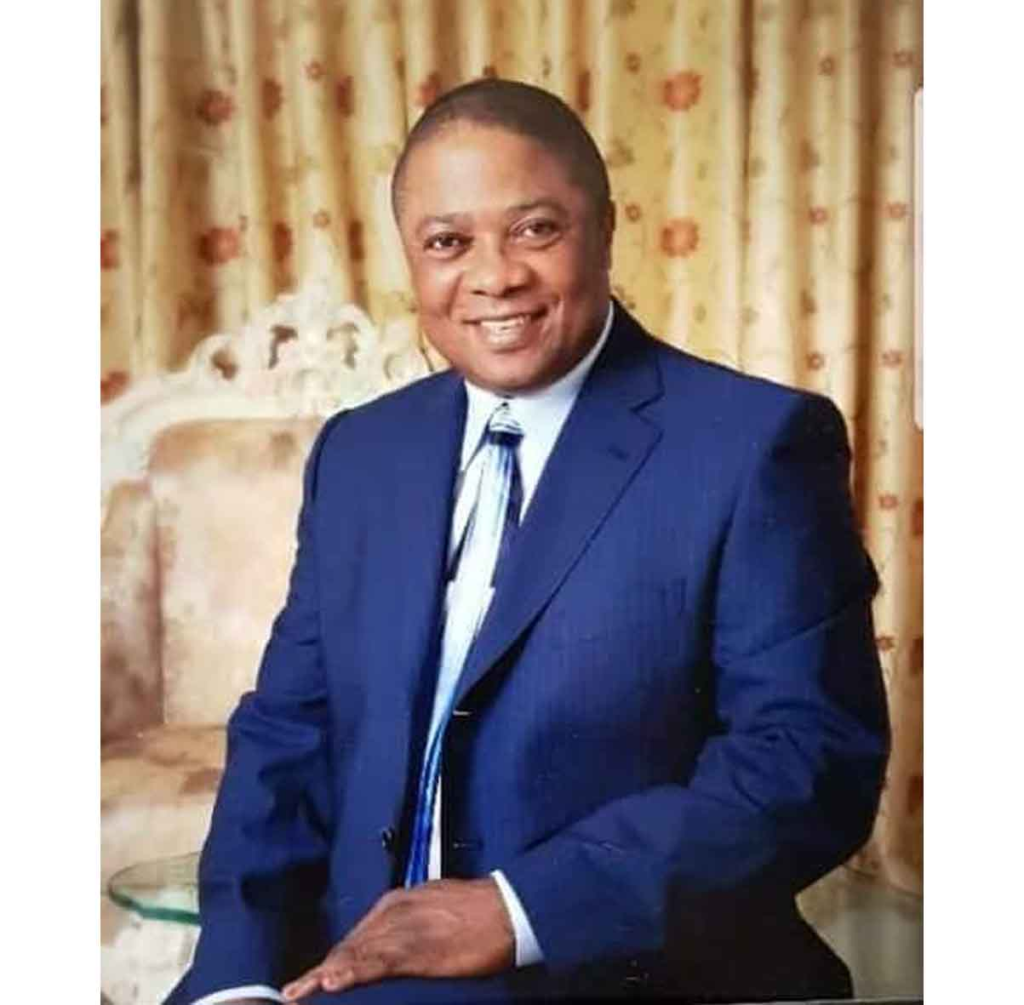 Source of wealth: Cement Manufacturing
Age: 70 years old
Net Worth: $1.2billion
Cletus Ibeto is a renowned and seasoned Nigerian Businessman born on November 6, 1952(70 years old). He is from Nnewi, Anambra State. He is CEO of The Ibeto Group, the largest business enterprise from Nnewi. He is also into automotive spare parts as well as cement manufacturing.
Cletus graduated from the University of Nigeria, Nsukka, with a degree in Accountancy. He was an apprentice in automobile spare parts before venturing into his own. He started as a spare motor part import dealer and excelled in his business. He later stopped importing spare parts after he built his factory in Nnewi.
As a goal-oriented businessman, he established Ibeto Petrochemical Industries Ltd. Cletus engages in the blending of oil lubricants and the production of different types of petroleum products for local and later extending to international markets. The businessman also has a cement-producing company called Ibeto cement company Limited. His wealth has come from his various businesses.
Award
Commander of the Order of the Niger- 2012
8. Tony Elumelu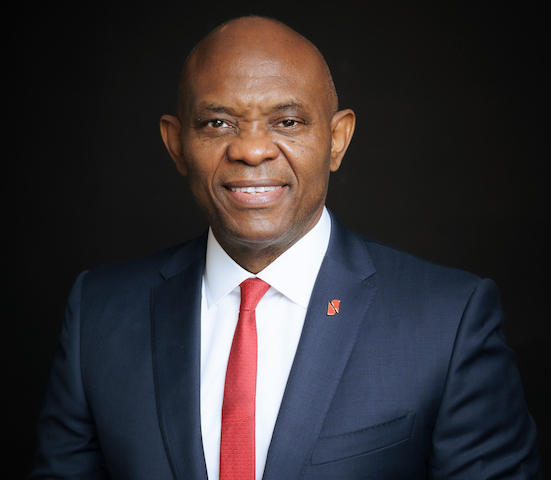 Source of wealth: Banking
Age: 59 years old
Net Worth: $1.2billion
Anthony Onyemaechi Elumelu, popularly known as Tony Elumelu, is a Nigerian economist and philanthropist born on March 22, 1963 (60 years old). His parents are from Onicha-Ukwu in Aniocha North Local Government Area of Delta State, but he was born in Jos, Plateau state.
He studied Economics at Bendel State University (now Ambrose Alli University), where he obtained a Bachelor's Degree in Science. After that, he went to the University of Lagos, where he got his Master of Science degree in Economics.
Tony Elumelu, upon completing his degree program before going for a master worked in Union bank as a Youth Corp member while serving his father's land in 1985. After this he started his career as a copier salesman, just like every Nigerian graduate who wishes to survive in the country.
Then in 2005, Tony Elumelu joined Allstates Trust Bank and the same year, Tony became the Group Managing Director of United Bank for Africa and Standard Trust bank after they merged. He successfully spread the bank to 20 other countries of the world.
Tony Elumelu stepped down as the Chairman of the United Bank for Africa. Tony also had other investments with which he started partnering, such as the investment, oil and gas, hospitality, power, and real estate sectors.
Tony's partnership with all these sectors is his source of wealth in the banking industry. He is also the founder of the Tony Elumelu Foundation, which also added to his wealth. Presently, Anthony Elumelu's net worth is about $ 1.2 billion.
Awards
Tony being a successful career personnel, has received lots of awards from different bodies, which include
"Member of the Order of the Federal Republic MFR", a national honour-2003 by the Federal government
National Honour of Commander of the Order of the Niger CON in 2012 for his service in promoting private enterprise.
A Nigerian man of the year in 2016 by Daily Times
All-Africa Business Leaders Awards (AABLA) Philanthropist of the Year Award(2018 and 2019)
Honorary Doctor of Business degree in 2019 from Bayero University Kano (BUK)
National Productivity Order of Merit Award in 2019.
100 Most Influential People of 2020 by TIME magazine
National honour of Commander of the Order of the Federal Republic On 11 October 2022
9. Abc Orjiako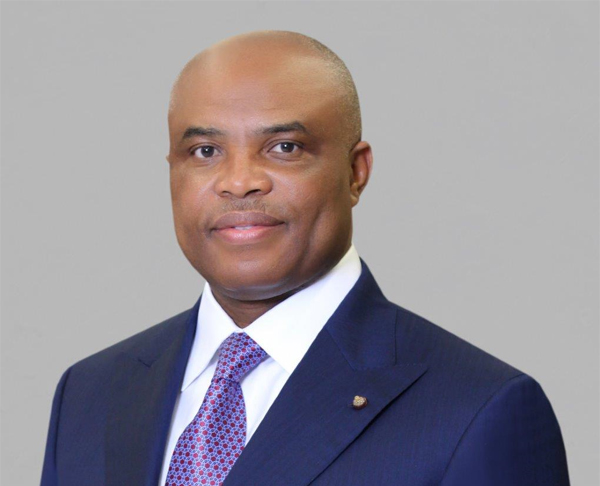 Sources of Wealth: Oil exploration, real estate and banking
Age: 62 Years
Networth: $1.2 billion
ABC Orjiako is the CEO of Ordec Group as well as Helko Marine Services. He was born on October 2nd, 1960, in Cross River. He has been an active doctor for about 11 years and has been doing well in his area of studies and other places where he made money from the Oil sector.
He went to the University of Calabar and graduated in 1985 from the College of Medical science with an M.B.B.Ch. Degree in General Surgery. He then went to Lagos University Teaching Hospital to complete his residency training. He further specialized in Orthopaedic and trauma surgery, which did work with the West African College of Surgeons in 1996. To further his education, he went to Harvard Business School OPM and graduated in 2006
After years of practising as a medical doctor, he moved into a full-time business in 2009. He co-founded the SEPLAT with Platform Petroleum Limited and Shebah Exploration and Productionandany and was the Chairman until 2022. The Business tycoon made money from medical lines, petroleum, stocks, Real estate, and banking.
The Business guru's estimated net worth is about 1.2 billion dollars, and he's considered as of the richest men in Nigeria.
Awards
Global industry Awards-2021
The sun Entrepreneur of the year- 2020
10. Jimoh Ibrahim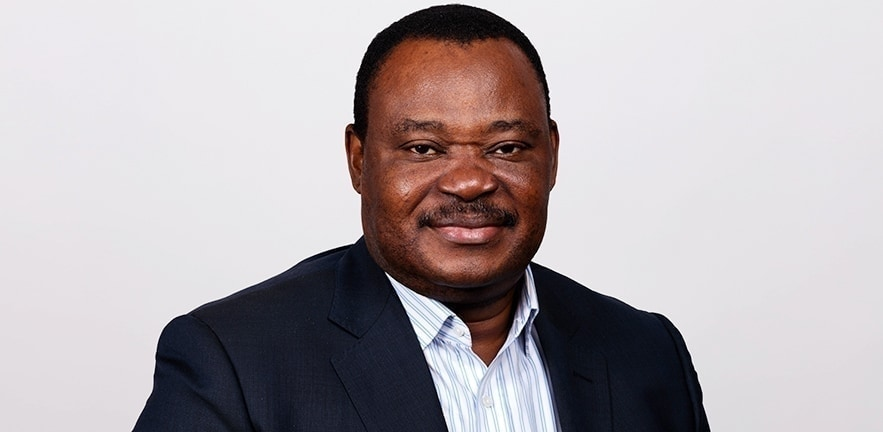 Source of wealth: Oil & gas distribution, hotels, stocks and many others
Age: 56 Years
Networth: $1.1 billion
Jimoh Ibrahim is a Nigeria Lawyer, businessman, politician, and philanthropist born on the 24th of February 1967 who is 56 years old, from Ondo state.
Jimoh studied law at Obafemi Awolowo University in Ile Ife, Osun State, Nigeria; He further went to Obafemi Awolowo University, where he got the degree of Master of Public Administration (MPA); he then later attended Harvard University in Cambridge, Massachusetts, USA,,,, graduating with a combined Master of Laws (LLM) and Masters In International Taxation degree.
The businessman later diversified and went into business. Therefore his source of wealth includes oil & gas distribution, hotels, stocks, resorts, banking, real estate, airlines, insurance, publishing, and other investments. The businessman is currently worth 1.1 billion dollars.
Conclusion
According to the research gathered, it's sure that these individuals have multiple streams of income and are successfully doing well in their respective areas of business. It is important to note that we calculated their net worth based on their businesses, properties, assets, and the amount they have presently.